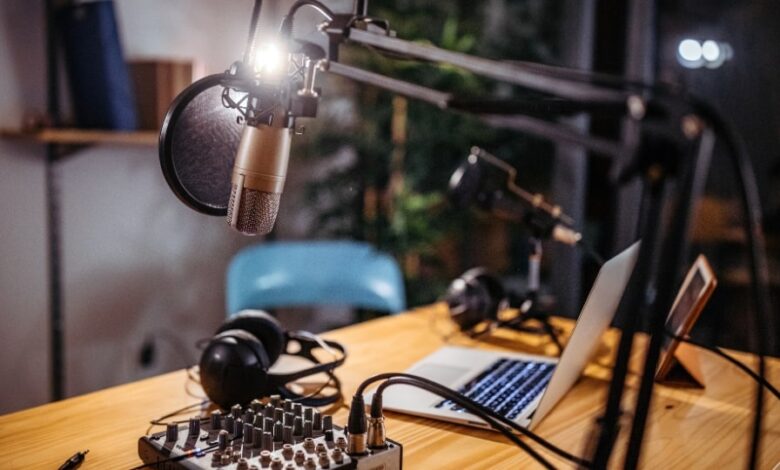 Podcasting for English Language Teaching & Learning
English-learning podcasts have revolutionized the way teachers and students approach language education. In recent years, the popularity of podcasts has skyrocketed, with an abundance of English language learning (ELL) podcasts now available to educators and learners. Let's have a look on the theoretical foundations of podcasting as a language learning tool, provide references to relevant research, and suggest podcasts and resources learners and teachers can use for further guidance.
Podcasting in Language Learning
Podcasts offer numerous advantages for language learners, including flexibility, accessibility, and the opportunity to develop listening and speaking skills in a contextualized manner (Krashen, 1982; Nation, 2013). Podcasts also provide exposure to authentic language, enabling learners to encounter a wide range of accents, dialects, and language registers (Hedge, 2000).
Krashen's (1982) Input Hypothesis posits that language acquisition occurs when learners are exposed to comprehensible input that is slightly above their current level of proficiency. Podcasts offer learners abundant opportunities for such input, as they can choose from a variety of topics and difficulty levels. Moreover, podcasts can be easily paused or replayed, allowing students to review and practice at their own pace.
Swain's (1985) Output Hypothesis emphasizes the importance of producing language as a means of developing linguistic competence. Podcasts can be used to encourage output by assigning learners tasks that require them to respond to the content or engage in discussions with their peers (Nunan, 2004).
Podcasts promote learner autonomy, as they allow students to take control of their learning and select the resources that best meet their needs and interests (Benson, 2011). This self-directed learning approach has been shown to be highly effective in language acquisition (Holec, 1981).
Top English-Learning Podcasts for Teachers and Students
All Ears English offers conversational English lessons for intermediate to advanced learners. Each episode features a discussion on a variety of topics, exposing students to natural language and idiomatic expressions.
Produced by the BBC, 6 Minute English offers short, informative episodes that cover interesting topics while teaching new vocabulary and expressions.
Culips ESL Podcast focuses on everyday English, featuring native speakers discussing various subjects. Each episode is accompanied by a study guide that helps students learn new vocabulary, idioms, and expressions.
Luke's English Podcast is hosted by an experienced English language teacher and features interviews, stories, and explanations of grammar and vocabulary. The podcast is designed to help learners improve their listening skills and overall English proficiency.
Another BBC podcast, The English We Speak focuses on teaching idiomatic expressions and commonly used phrases in everyday English. Each short episode includes a dialogue, explanations, and examples.
Voice of America – Learning English
Voice of America – Learning English provides news stories and features in simplified English, accompanied by transcripts. It is an excellent resource for learners who want to improve their listening skills while staying informed about current events.
ESL Pod offers English lessons in a slow, easy-to-understand manner. Each episode covers a specific topic and includes explanations of key vocabulary and phrases.
Adept English focuses on helping learners improve their English fluency through listening practice. The podcast covers a wide range of topics, from grammar and vocabulary to culture and current events.
Better at English features real conversations between native speakers, with accompanying transcripts and vocabulary notes. The podcast is designed to help learners improve their listening and speaking skills in a natural context.
EnglishClass101 offers a vast library of audio and video lessons, covering various topics and difficulty levels. The podcast series includes lessons on grammar, vocabulary, culture, and more, catering to learners of all proficiency levels.
The TEFLology Podcast explores various topics related to teaching English as a foreign language (TEFL). Episodes feature interviews with experts, discussions on teaching methods, and reviews of relevant research.
The EdTech Podcast focuses on the integration of technology in education. It offers interviews with educators, edtech experts, and researchers, providing insights into how technology can enhance language teaching and learning.
The TESOL Pop Podcast explores the intersection of popular culture and language teaching, offering engaging discussions and practical tips for incorporating pop culture into English language lessons.
The ELT Planning Podcast offers advice and ideas for English language teachers on various aspects of lesson planning, from selecting materials to designing engaging activities.
Masters of TESOL is a podcast aimed at English language teachers, featuring interviews with experts in the field. Episodes cover a wide range of topics, including teaching methods, classroom management, and language acquisition theories.
The TEFL Commute is a light-hearted podcast that discusses various aspects of teaching English as a foreign language. Episodes cover topics such as teaching materials, classroom activities, and professional development.
The Teacher's Toolkit Podcast focuses on practical teaching tips and classroom strategies for English language teachers. Episodes cover topics like teaching grammar, vocabulary, listening skills, and more.
The ESL Teacher Talk Podcast offers practical tips and advice for teaching English to speakers of other languages (ESOL). Each episode features a discussion on a specific teaching topic, as well as a game or activity that can be used in the classroom.
English Language Teaching Podcasts
English Language Teaching Podcasts features interviews with experienced ELT professionals, discussing various aspects of language teaching and sharing their insights and expertise.
The EFL Magazine Podcast is a professional development podcast for English language teachers, offering interviews with experts, discussions on teaching methods, and advice on classroom management.
These podcasts provide valuable resources for English language teachers looking to improve their teaching skills, stay informed about the latest research, and discover new ideas for classroom activities.
References
Benson, P. (2011). Teaching and researching autonomy in language learning. Pearson Education Limited.

Hedge, T. (2000). Teaching and learning in the language classroom. Oxford University Press.

Holec, H. (1981). Autonomy and foreign language learning. Pergamon Press.

Krashen, S. D. (1982). Principles and practice in second language acquisition. Pergamon Press.

Nation, I. S. P. (2013). Learning vocabulary in another language. Cambridge University Press.

Nunan, D. (2004). Task-based language teaching. Cambridge University Press.

Swain, M. (1985). Communicative competence: Some roles of comprehensible input and comprehensible output in its development. In S. Gass & C. Madden (Eds.), Input in second language acquisition (pp. 235-253). Newbury House.