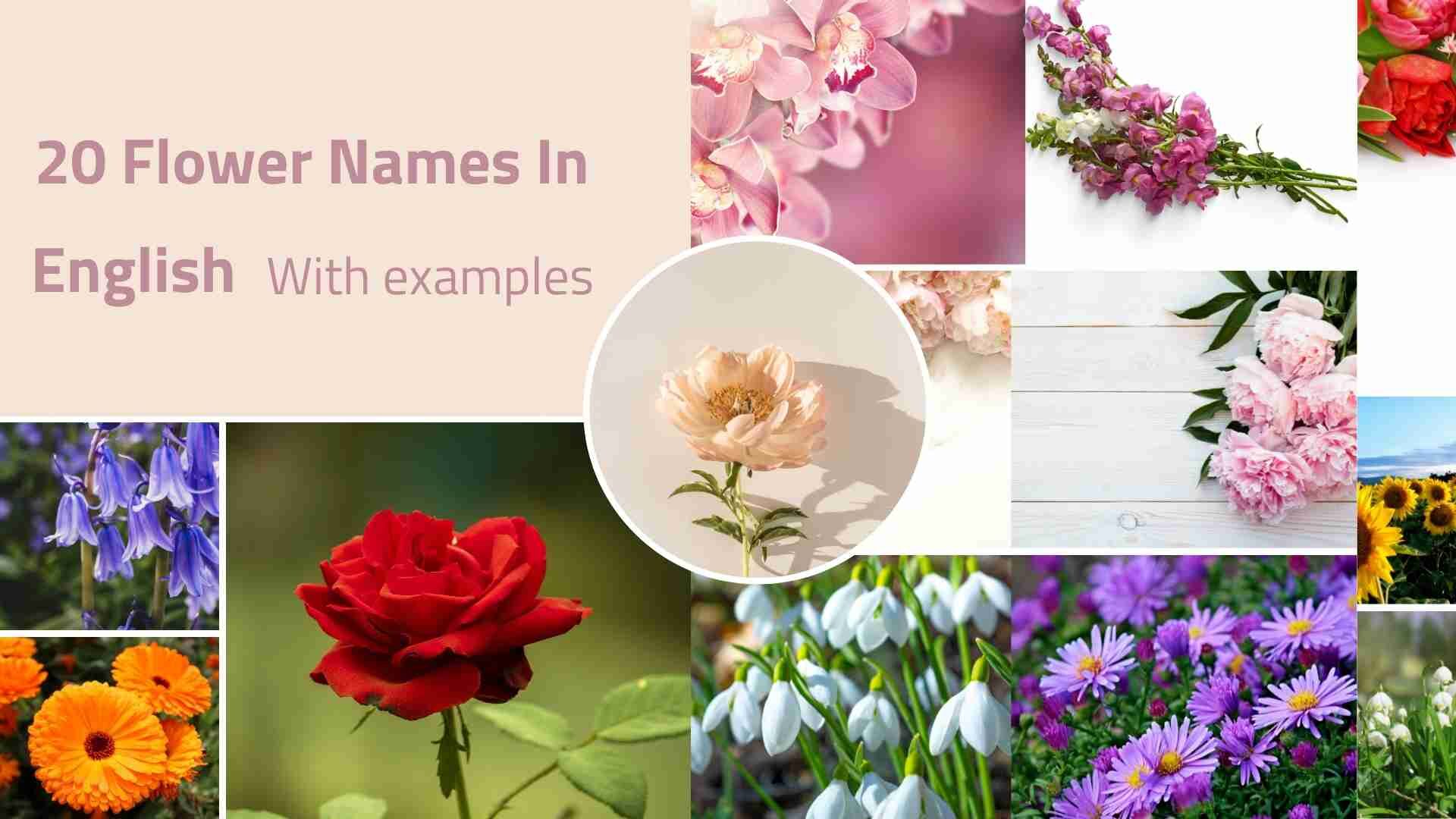 20 Flower Names In English (with Pictures)
Flower Names in English
In this list, we will provide you with flower names in English. The world of flowering plants includes more than just short and long life. Hundreds of grapes, onions and bushes add charm and color to the gardens. We also added some pictures and examples to help you memorizing these words, which you need during your educational journey while learning English.
1. Anemone
Also known as windflower, these lumpy flowers have spring blooms that resemble poppies. It may grow in either direct sunlight or light shade. The flowers of this plant differs from red, white, or blue in colour.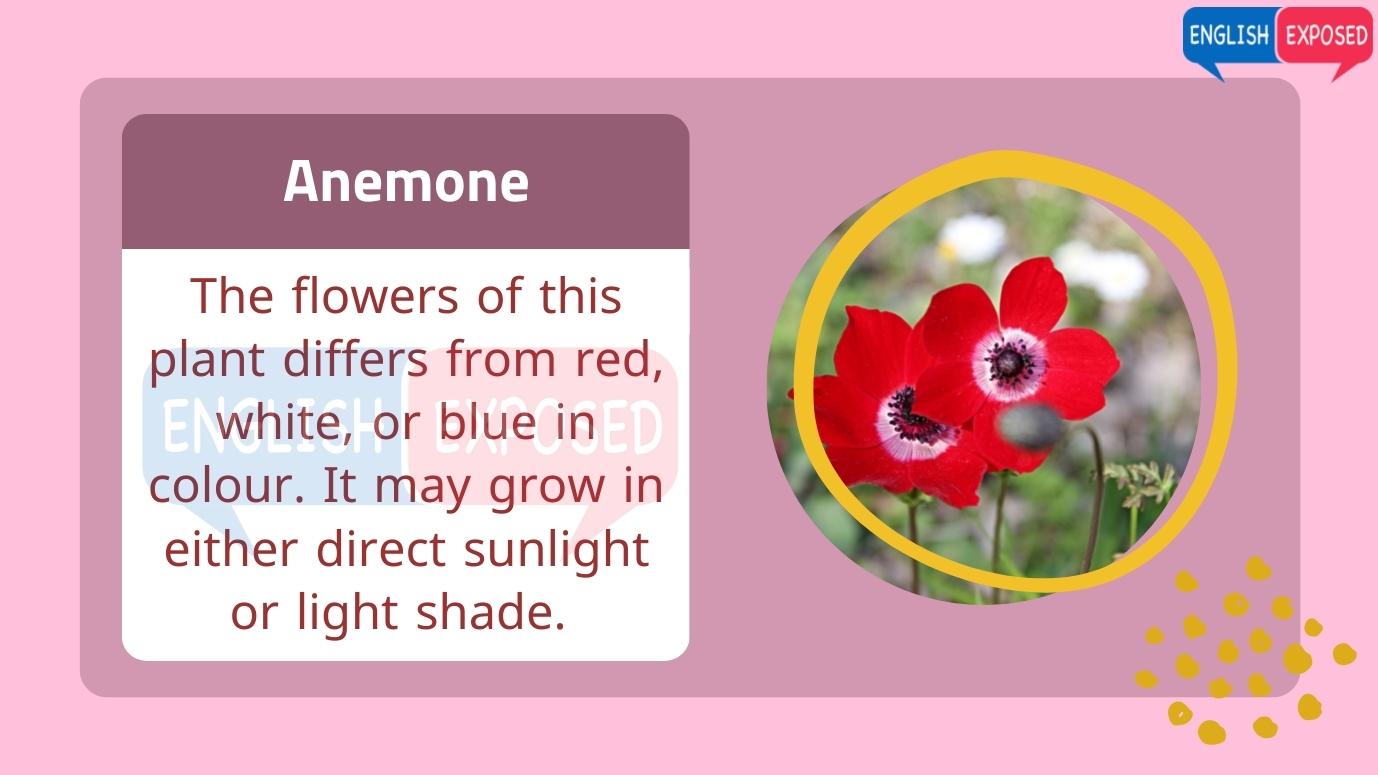 2. Allium
This plant, often known as a blooming onion, grows from a bulb or seed and produces long stalks covered in purple spheres of flowers. It needs moist but well-drained soil with direct sunlight to grow.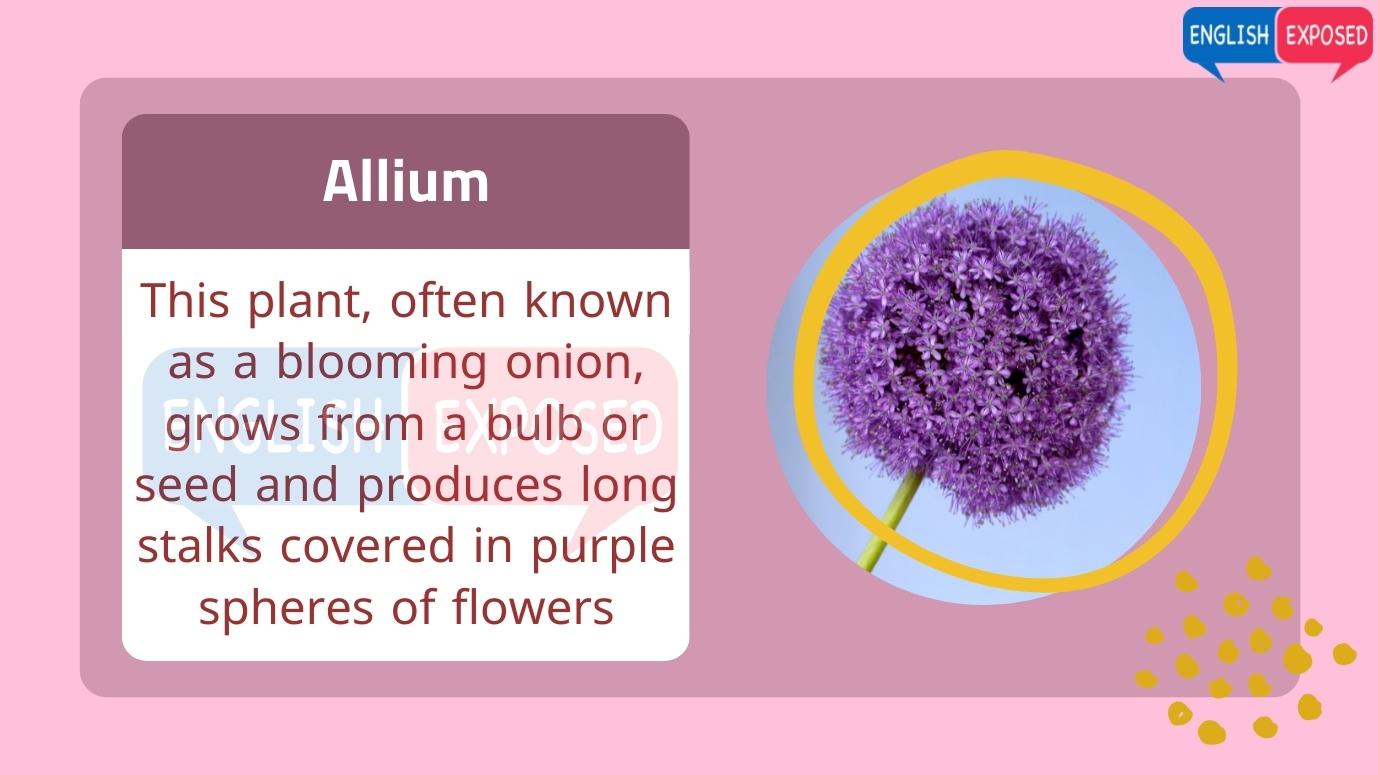 3. Artemisia
This flower, which can live and thrive for many years, is mostly attractive for growers for its small, silvery rather than white flowers and white leaves. But it can also produce a lot of showy flowers in a long-lasting flowerbed. Artemisia herb should be given dry and fertile soil.
4. Alyssum
This perennial herb grows every year in cold climates. Small clusters of flowers look extraordinarily attractive on the edge of a bed.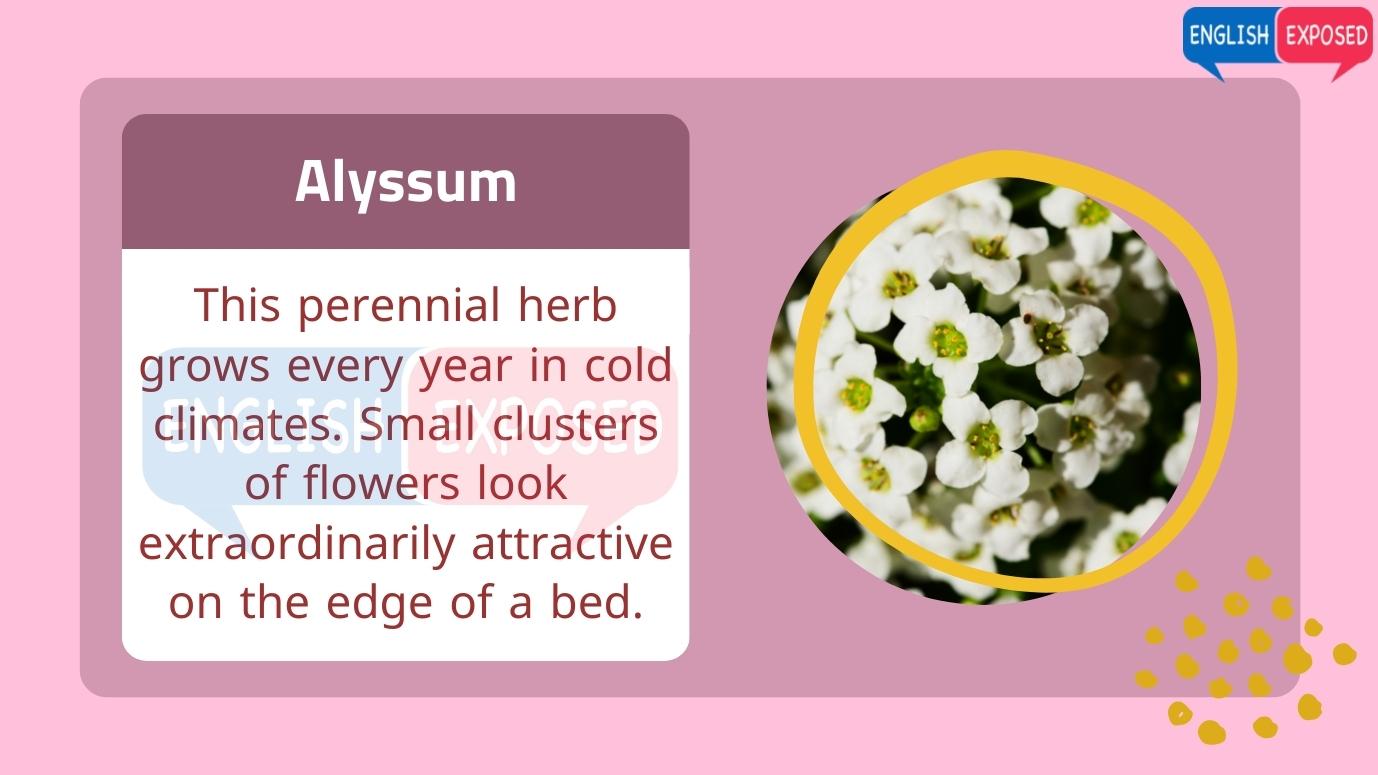 5. Aster
Aster grows and blooms in late autumn or early summer, when many other perennials die. They can grow up to 2 meters above sea level. the ones that are like daisy have many colors; the most common shades are purple, lavender, pink, red, blue and white. It should be planted in wet, well-drained soil in a sunny area.
6. Bachelors Button
Also known as cornflower, this flower resists frost more than most perennial plants and produces flowers with small, multi-leaf. Seeds can be planted in the garden in early spring in a sunny area.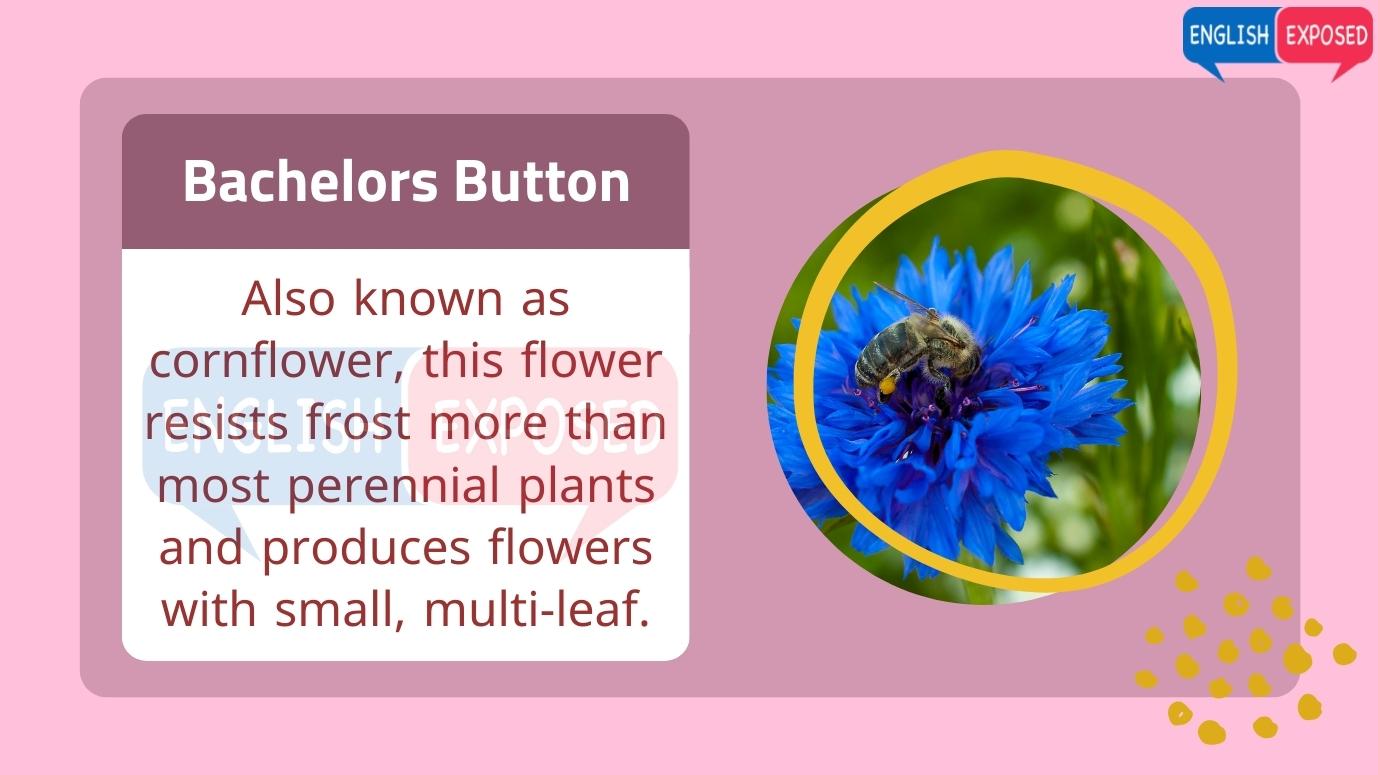 7. Astilbe
People often use this flower To add color to a shady garden, several long-lasting astilbe can be planted. This plant produces flowers that are like feather and fern leaves. Astilbes prefers acidic, moist soil and partial shade.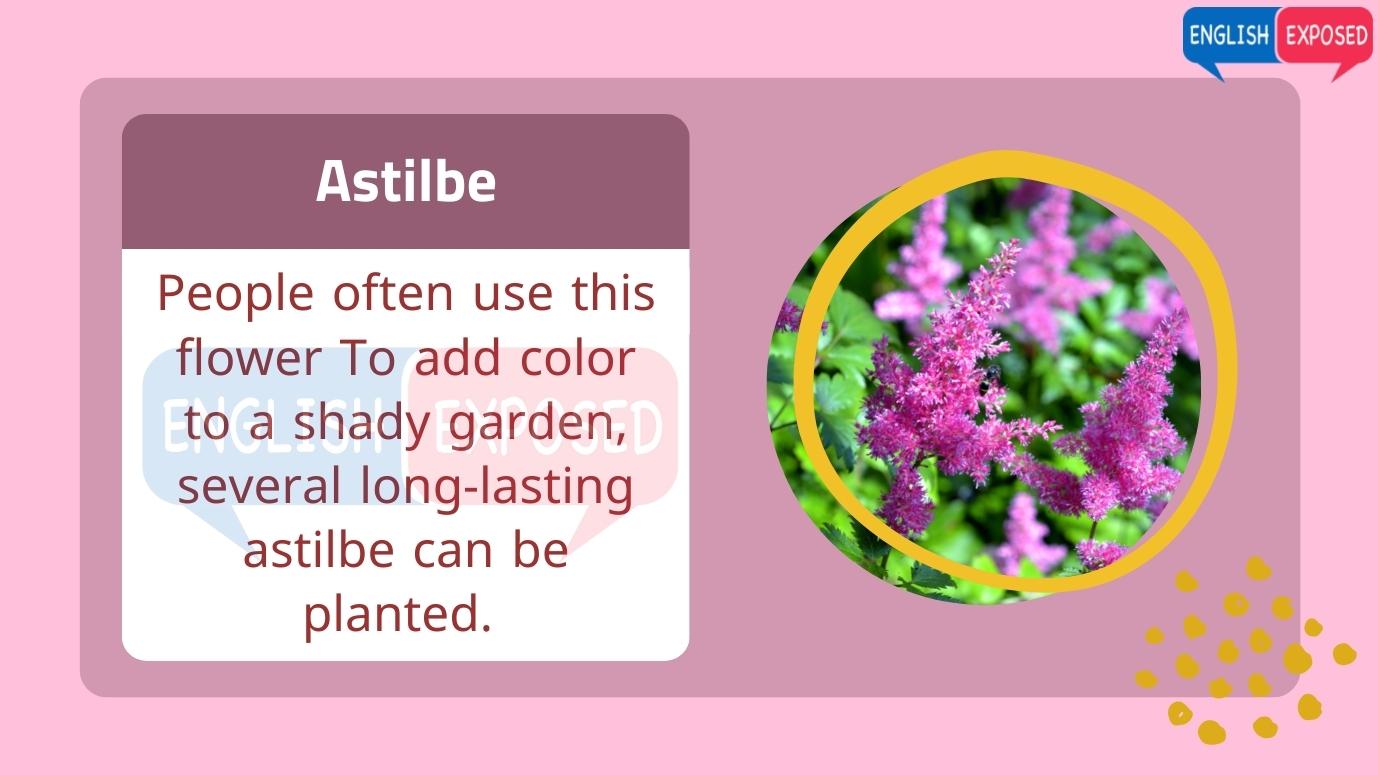 8. Balloon Flower
Balloon flowers provide summer gardens with old-fashioned bell-shaped flowers. You should keep these long-lasting flowers in the sun or in partial shade. They also prefer slightly acidic, moist soil.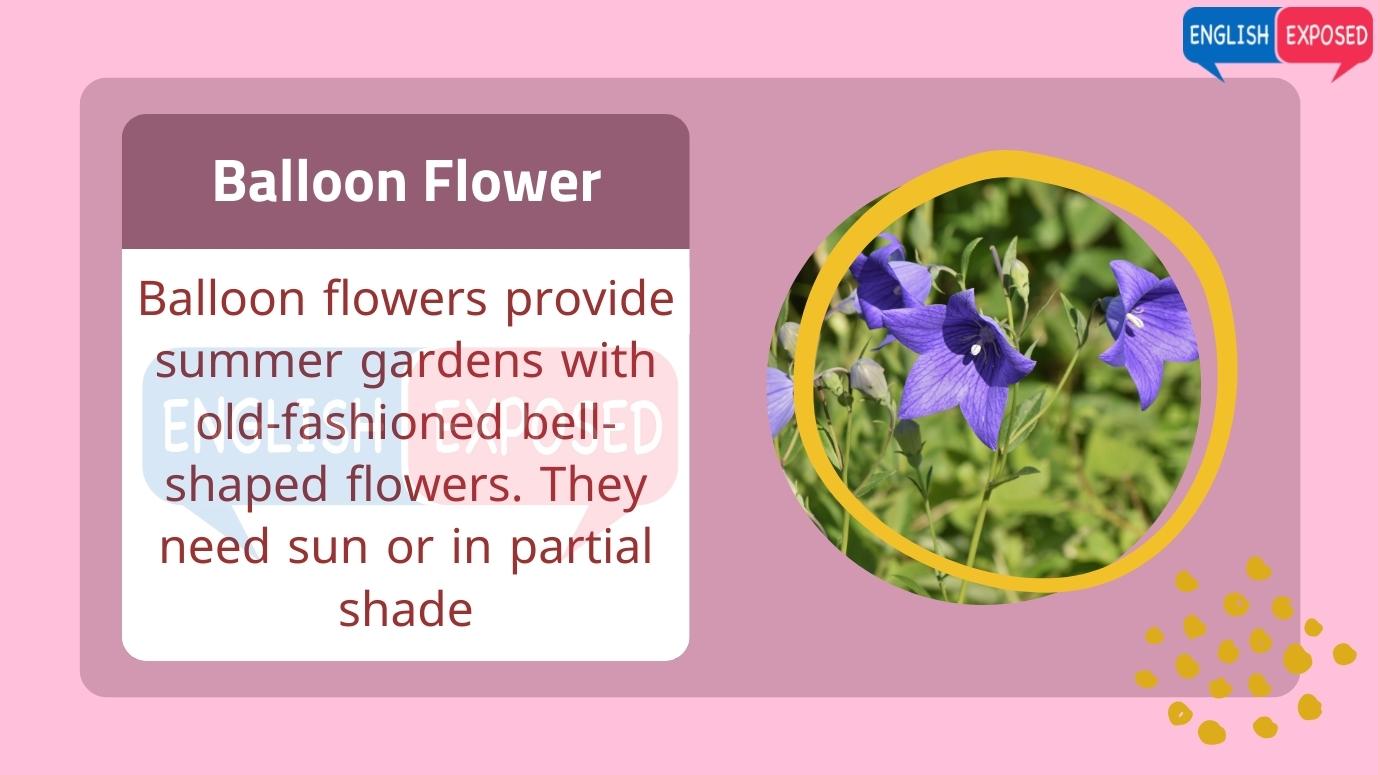 9. Bellflower
These bell-shaped old-fashioned flowers varies from lavender, pink or white, but most varieties are blue. It should be grown in the sun, in moist and fertile soil.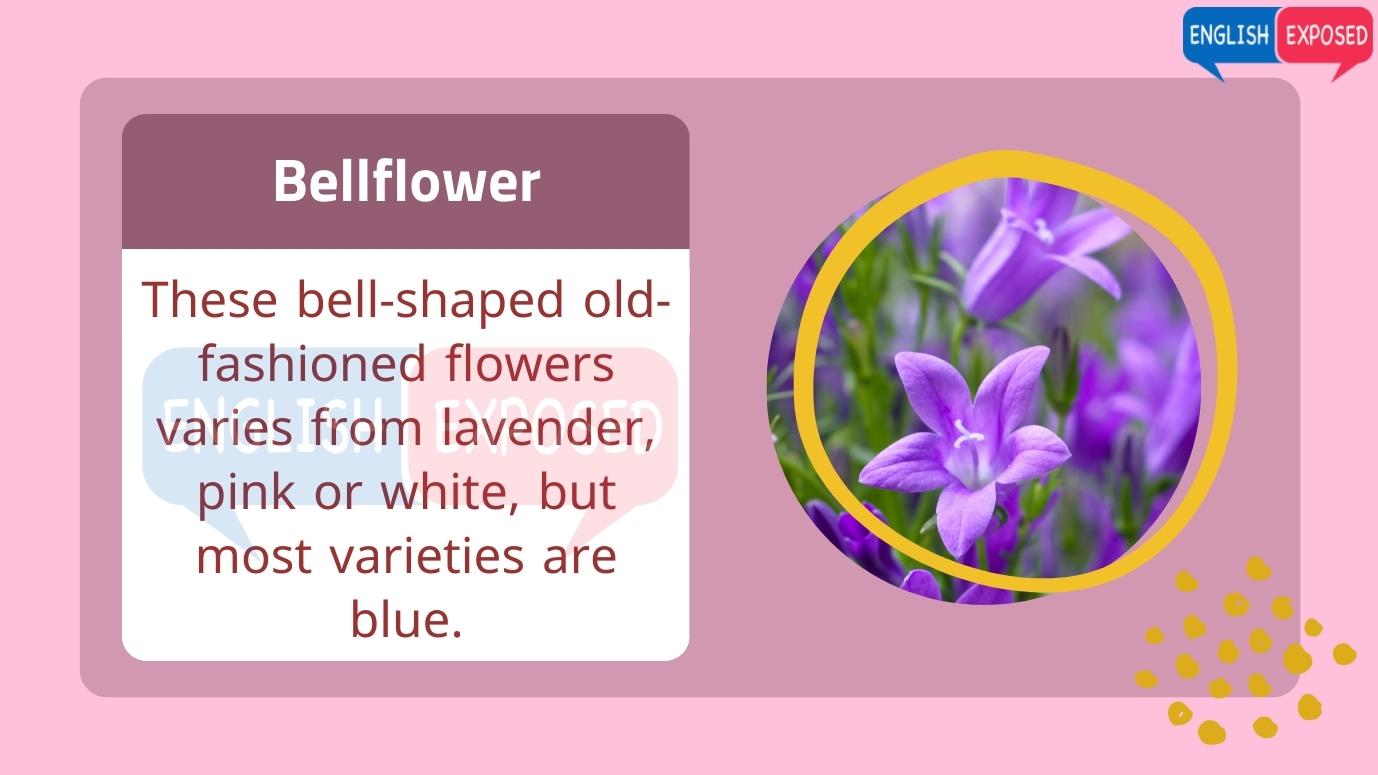 10. Blanket Flower
Also called Gaillardias, these flowers grow in warm, dry places and produce flowers of various shades such as red, yellow and gold and they are like daisy. Many of them are very colorful. Plant these flowers in sandy, well-drained soil and beware of not overwatering them.
11. Camellia
If the region you reside in is temperate, you have to plant camellia in your garden, because they are durable Flowers of different colors and fragrances, from red to pink to white, and are 2 to 5 inches wide and bloom in winter.
12. Chrysanthemum
These flowers are generally grown and long-lasting in cold climates, as they can produce penny-sized pompoms flowers that are daisy-like.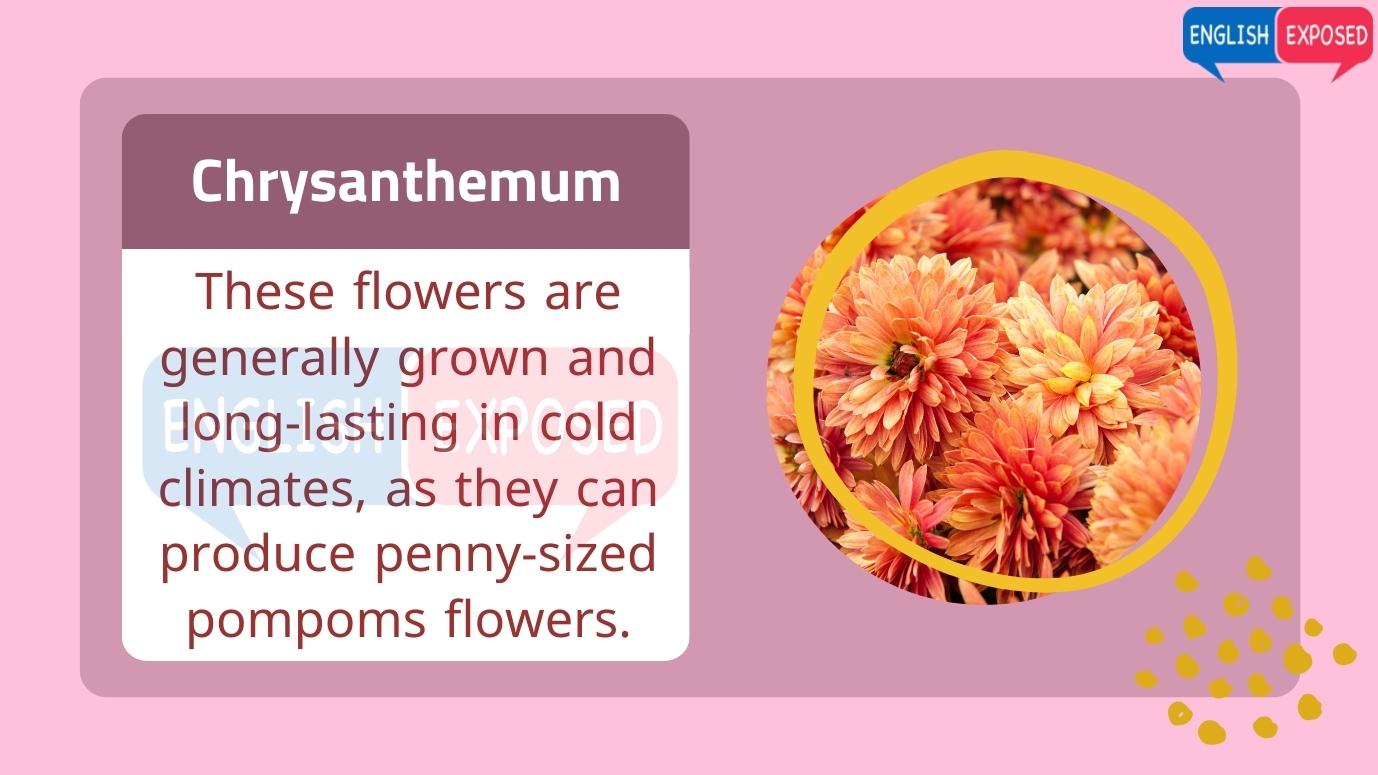 13. Coneflower
The cone flower is a wonderful option for any long-lasting bed due to its chamomile-like blossoming and simple maintenance requirements. Rudbekia is another good cone flower species, and it has a height range of 6 inches to 4 feet. The iridescent purple flowers with huge, purple blooms are produced by the purple cone flower. Coneflower tolerates dryness and prefers full light.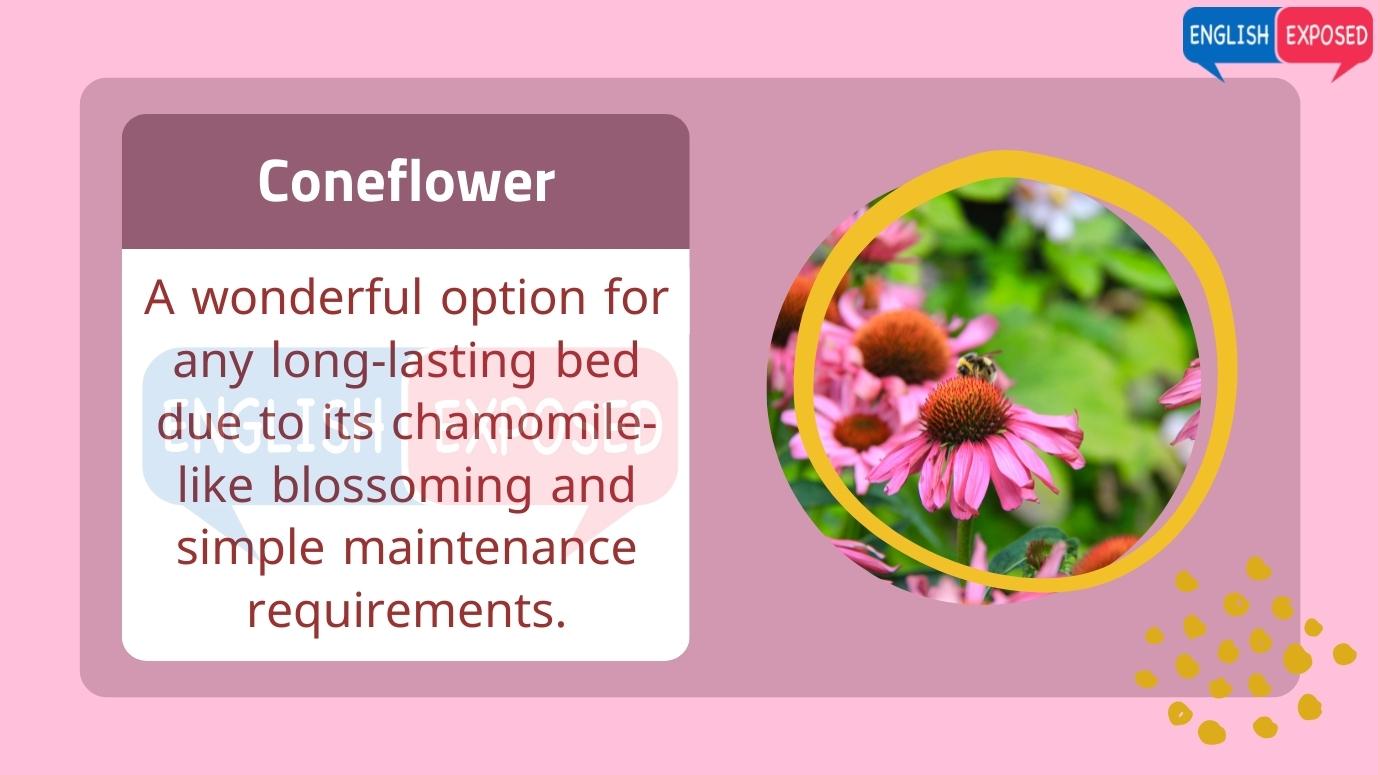 14. Columbine
Another flower to add in the flower names list. These plants grow wild in forests of the United States, but they appear to be long-lived as a result of their beautiful, fragile blooms. You can plant it in full sun and partial shade.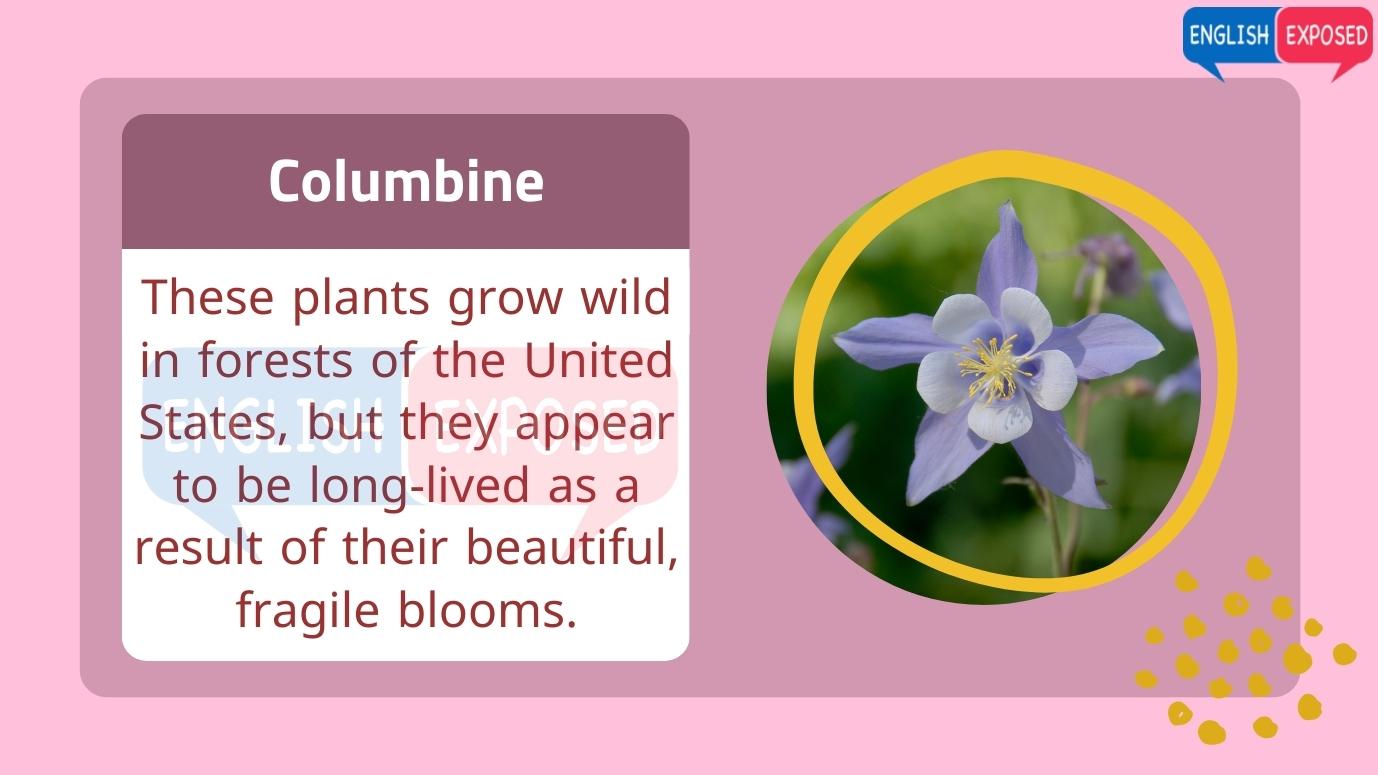 15. Coral Bells
Fragile red or pink bells swing on the thong stems. Coral bells are quite durable and grow well in a shade garden. They prefer moist, fertile and well-drained soils.
16. Coreopsis
These cute yellow or orange flowers look like daisy flowers and grow in almost any condition. Although they don't last long, but they can take care of themselves. The blossoms must be pruned in order to maintain the plant's regular appearance.
17. Cosmos
This flower blooms easily, as the majority of these flowers bloom in summer. They can reach up to 4 feet high and may need to be stacked. Place them in full sun or partial shade. They prefer light dry, fertile soil.
18. Crocus
The pretty wonderful flower that grows and blooms in the spring period, early before other plants appear. The flowers come in various colors and look like small, fragile tulips. You can plant them in the sun or shade. They also could be planted in several places to expand the flowering time, If you have free space.
19. Delphinium
These splendid flowers are very gentle and their flowers have pretty and sudden growth. They prefer cool summers and soils that are moist and rich in alkaline. People often use Tall pots when planting these flowers in order to prevent them from tipping.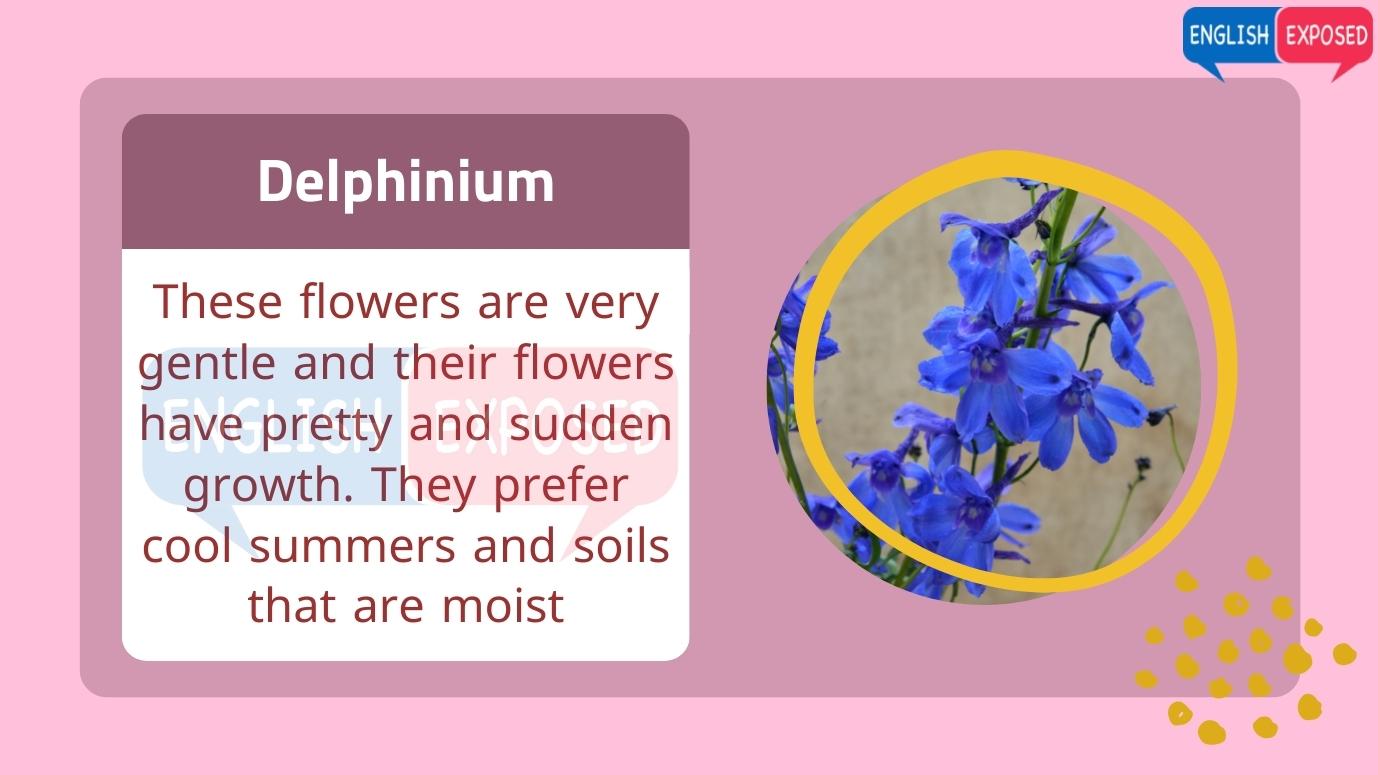 20. Gas Plant
The gas plant grows very slowly, but provide the plant with pink or white flowers in first days of spring. This plant prefers full sun to partial shade. These plants produce gas on moist summer nights. Some people say that the gas in the flower could be ignited with a match.
Read more:
Food List | 99+ Foods Names in English
55+ Foods That Start With E (With Pictures)
List of Proteins Foods in English | Protein Words List
45+ Foods That Start With K (with pictures)