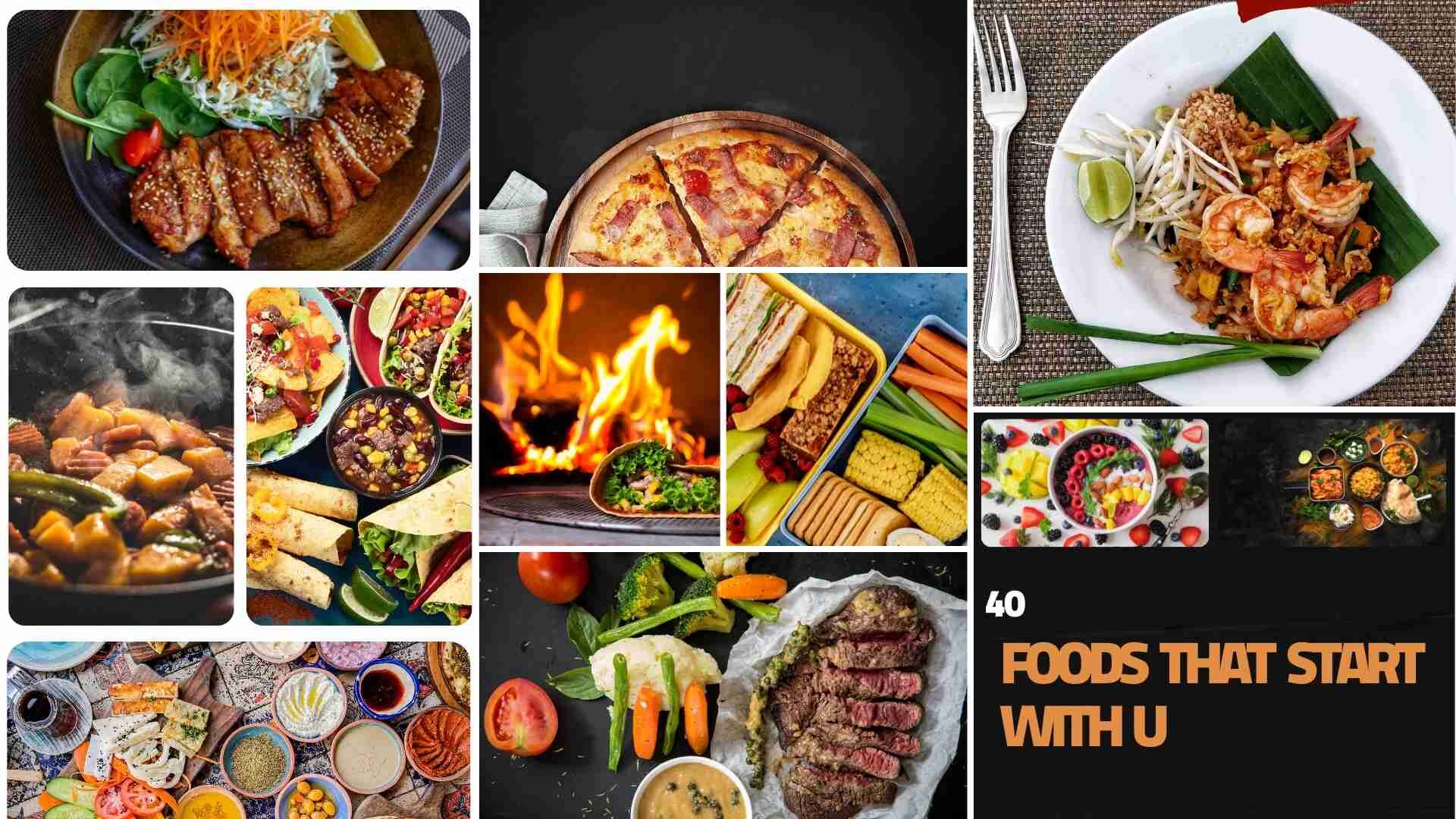 40 Foods That Start With U (with examples)
This helpful list will share 40 interesting, new and unusual foods that start with u, and each food is provided with pictures to demonstrate it to help you during your educational journey while learning English.
Umbrella Fruit [countable]
A sour fruit that is grown in tropical regions all over the world, especially in Africa and Asia. It is green-coloured and turns yellow when maturing.
Urfa Biber [uncountable]
A condiment originated in the Urfa region of Turkey, it comes from Turkish chilli pepper. It has a dark burgundy colour, a sweet, smoky and salty flavour and a deeper heat than a "spicy" heat.
Ugba [uncountable]
An edible oil bean seed that comes from the fruit of the African oil bean tree, it is used as a condiment, meat replacement or eaten as a snack.
Ugli Fruit [countable]
A citrus fruit that is considered a cross between the mandarin and grapefruit. Ugli fruit is juicy, and its taste is often sweet and tangy with a slight bitterness.
Umeboshi [uncountable]
Are Japanese pickled ume fruit known for its extremely sour and salty taste, they are ideal for sushi and rice balls.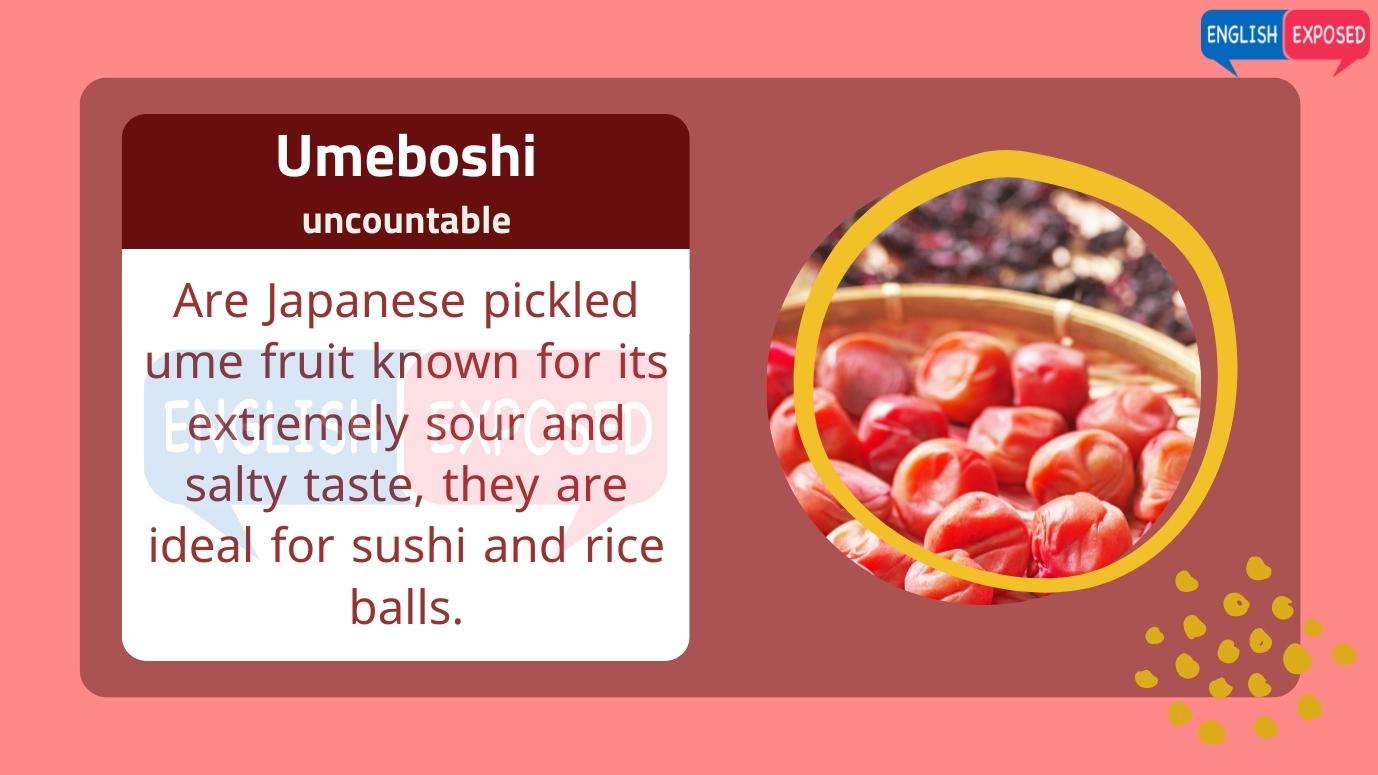 Urad Dal [uncountable]
Are split black lentils that can be cooked in several ways, depending on the region. In India is dal used to make dals (or dal makhani), and in the South, it is mostly used to make batter for idli and dosa.
Urava Fruit [countable]
A citrus fruit that is Small and round, it looks like a tiny hat. The outer skin is thick and green in colour. They are quite widespread and are found mostly in mangrove trees.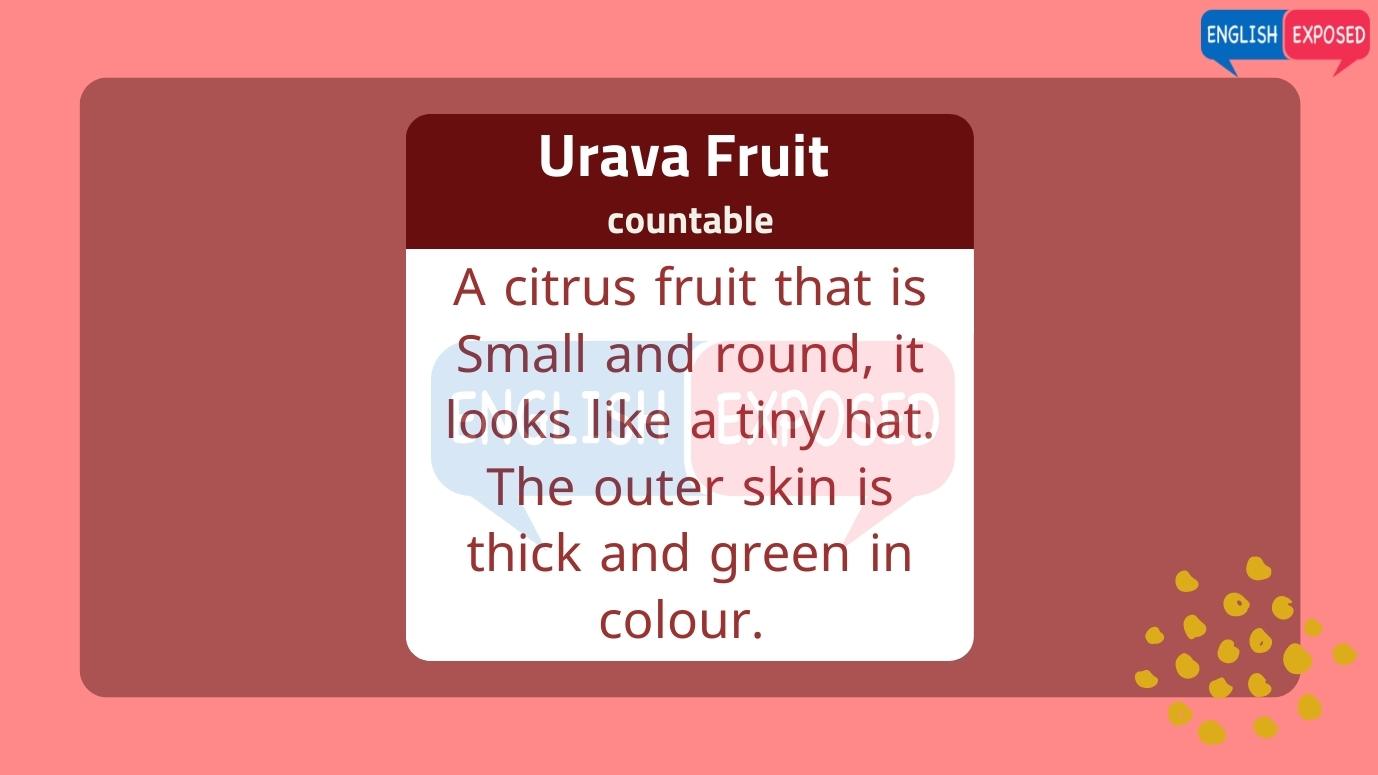 Ububese Fruit [countable]
An African fruit that can be found in Angola, Botswana, Mozambique, Zimbabwe and Namibia. It is a yellow fruit with a delicious sugary taste. You can eat them preserved, cooked, or raw.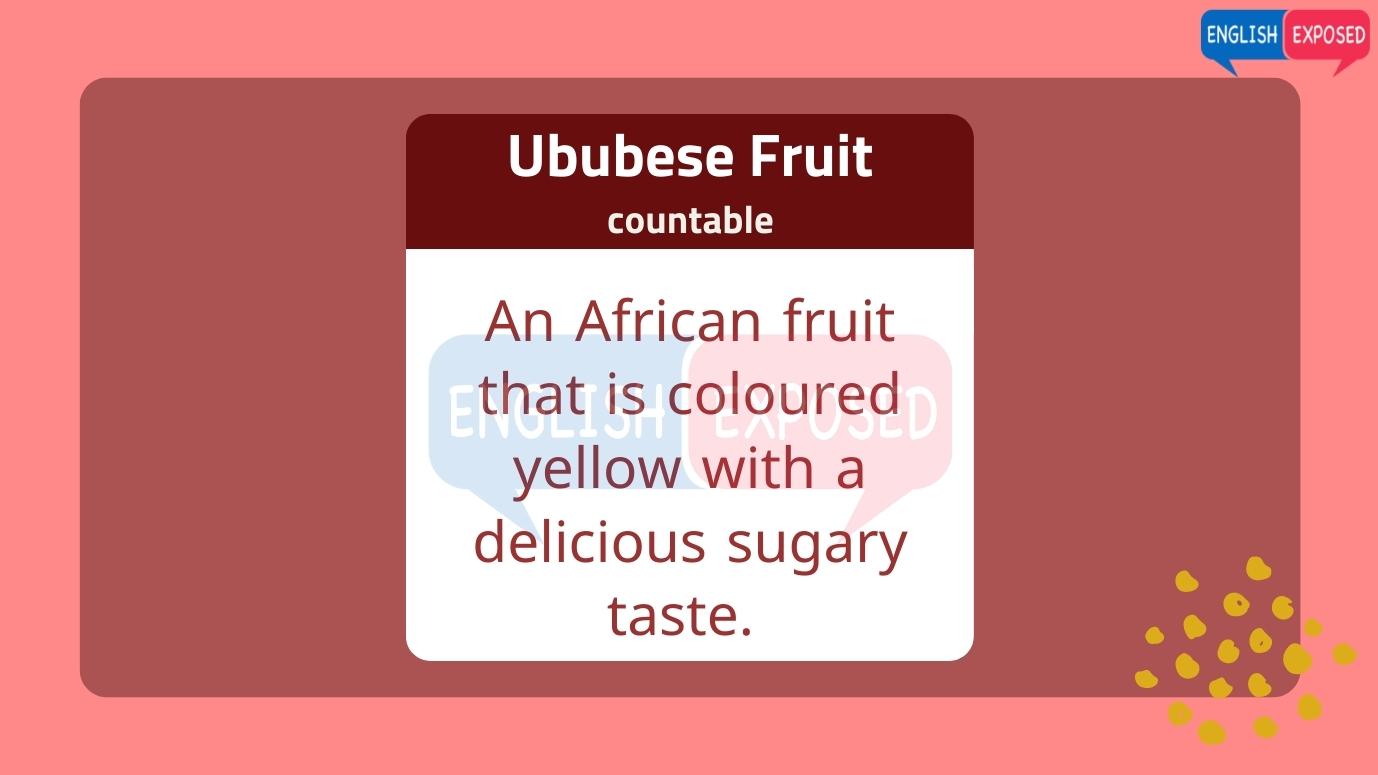 Umibudo [uncountable]
A tropical vegetable or seaweed that is native to Africa and often grows in the shallow water of Okinawa, Japan. It is also known as sea grapes or green caviar and is prized for its delicious taste. It looks like extremely tiny grapes or small marbles. It's mostly eaten raw, but it can also be grilled or added to soups.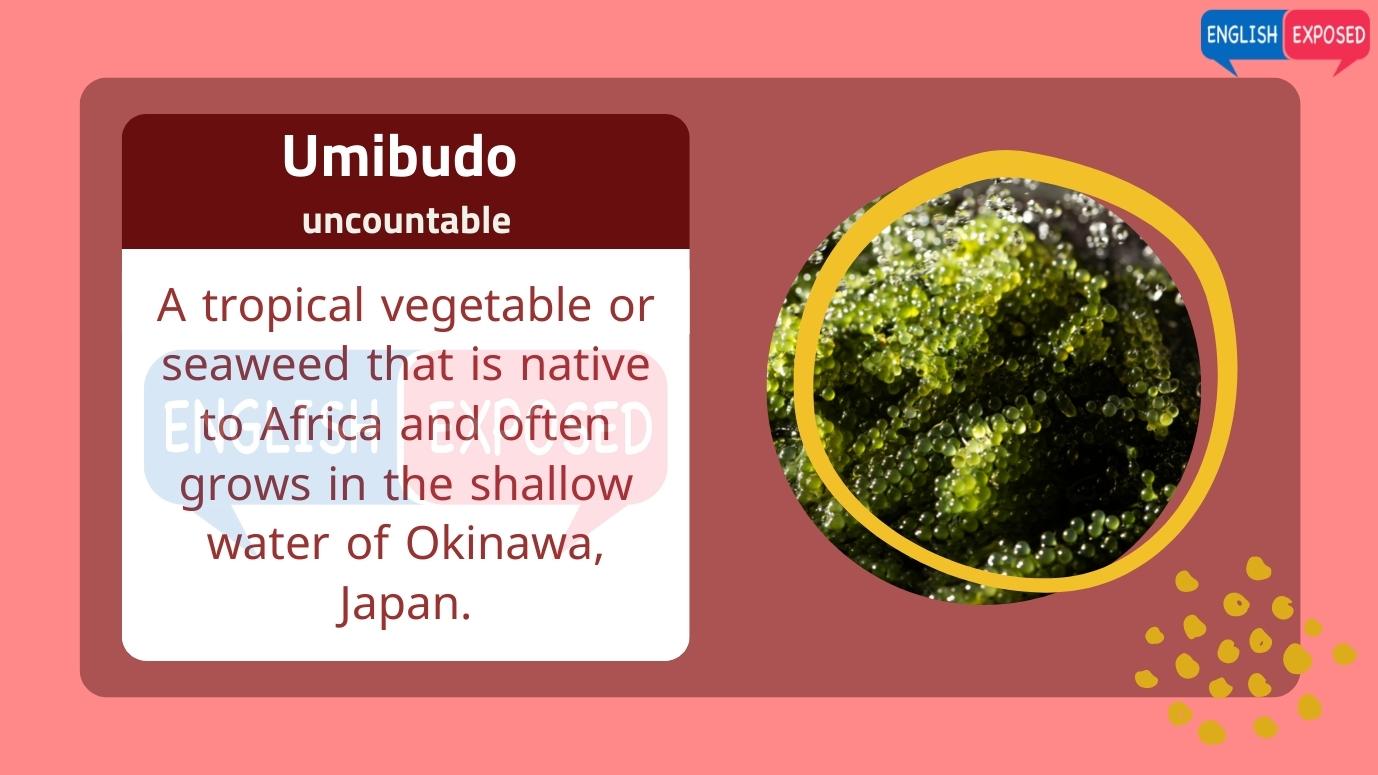 Umbu Fruit [countable]
A round fruit that is native to Brazil, It is light yellow to red in colour and small in size with a thick and hardened outer skin. There are many varieties of Umbu, some the size of cherries and others as big as lemons. It is also known as Brazil plum and can be eaten fresh or made into juice.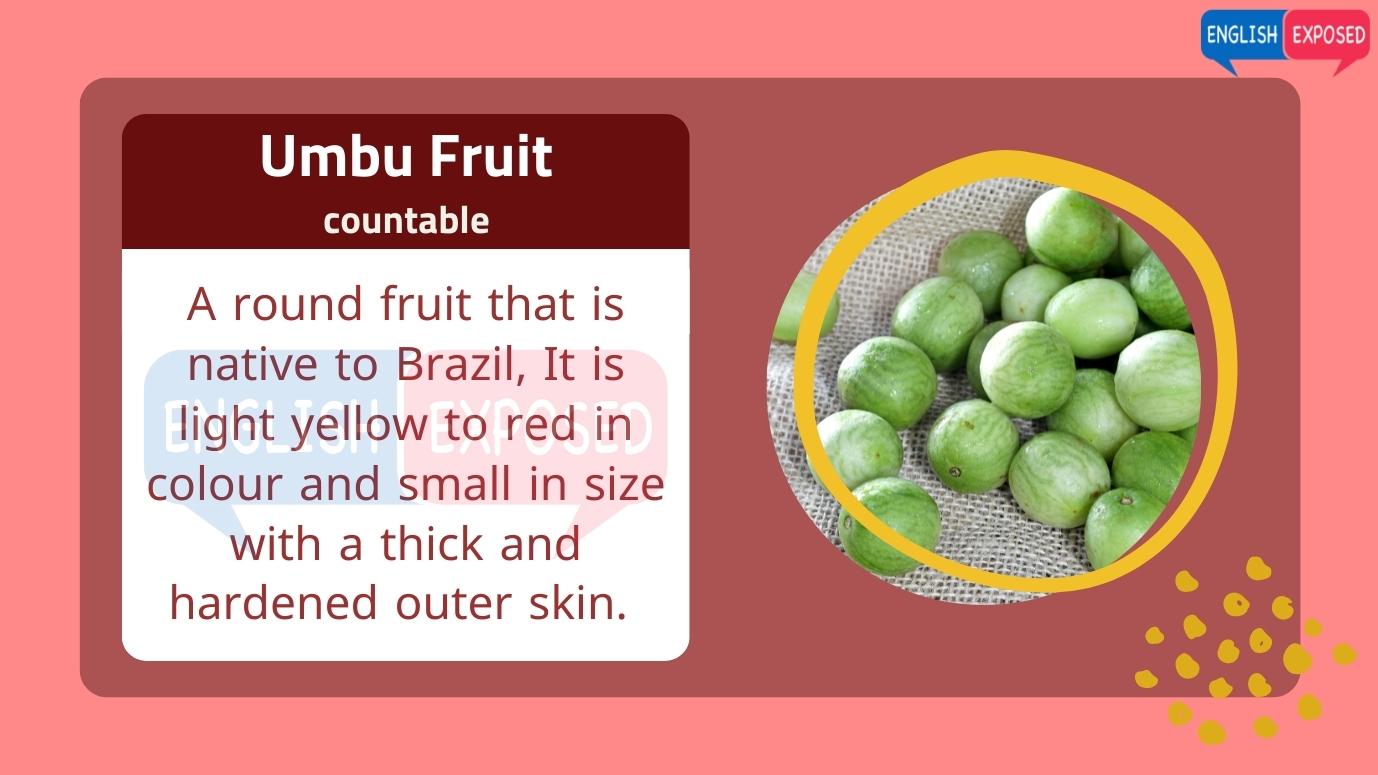 Usuma Fruit [countable]
A small red fruit that is native to Peru and Ecuador. It is also known as peanut butter fruit because it tastes exactly like that. People often use it for milkshakes, smoothies, jams, and juices Because of its unique and pleasant taste. Despite of being an odd fruit, I thought it would suit adding to the list of foods that start with u.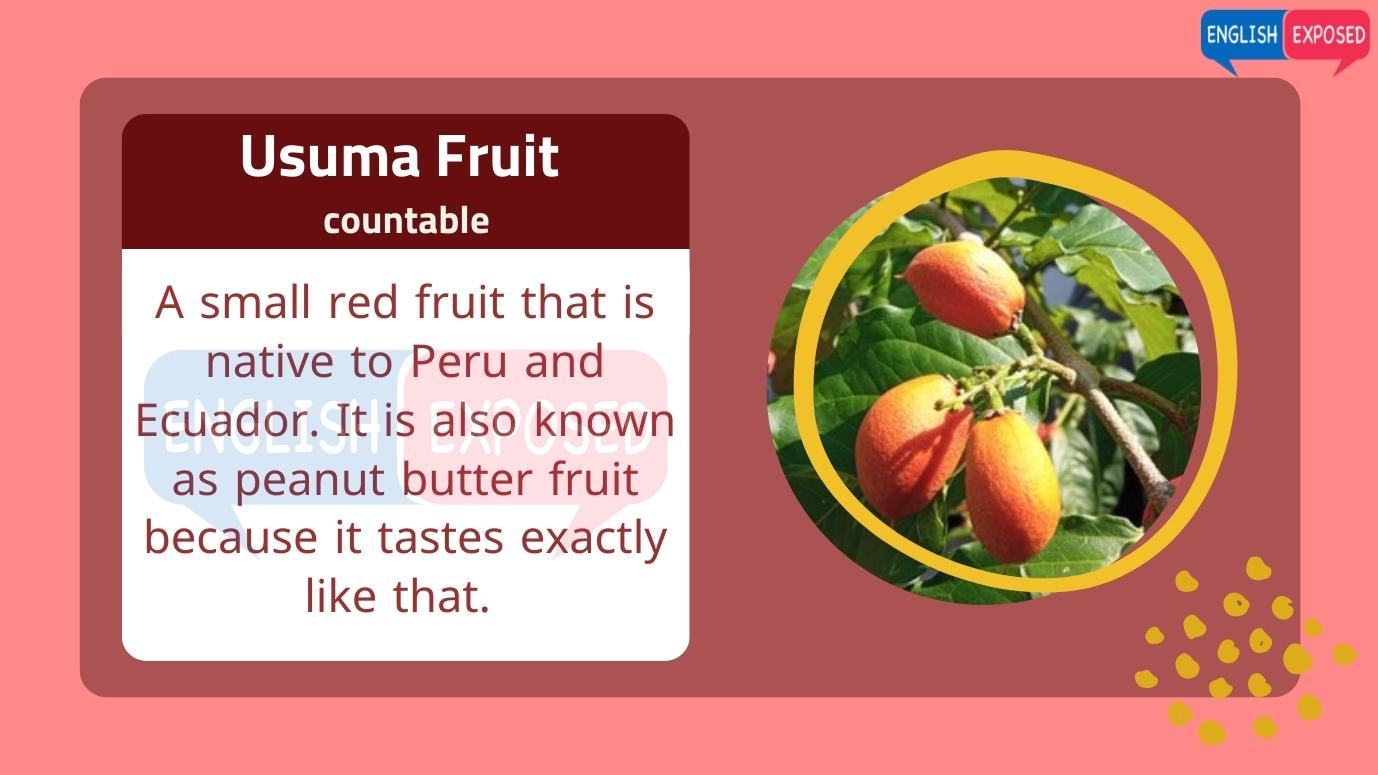 Ulluco [uncountable]
One of the most widely grown root vegetable crops that are native to the Andean region of South America. It is brightly coloured with waxy skin — it can be either pink, yellow or purple. It tastes slightly sweet and people don't bake or fry them because they aren't suitable for baking or frying, instead, they cook them in other ways.
Ube [uncountable]
A bright purple yam that is related to sweet potatoes and commonly used in desserts.
It is native to the Philippines and is considered a brilliantly purple sweet potato with a sweet taste and flavour, but doesn't taste exactly like regular sweet potatoes, it is creamy and coconut-like with a mellow. and it is commonly used in desserts.
Upland Cress [uncountable]
A green leafy vegetable, native to Europe and Asia. it is commonly used in salads, sandwiches, soups, or cooked down and served like spinach.
Udon [uncountable]
A thick noodle made from wheat flour and commonly topped with thinly chopped scallions. Udon is served with mild broth made from dashi, soy sauce, and mirin.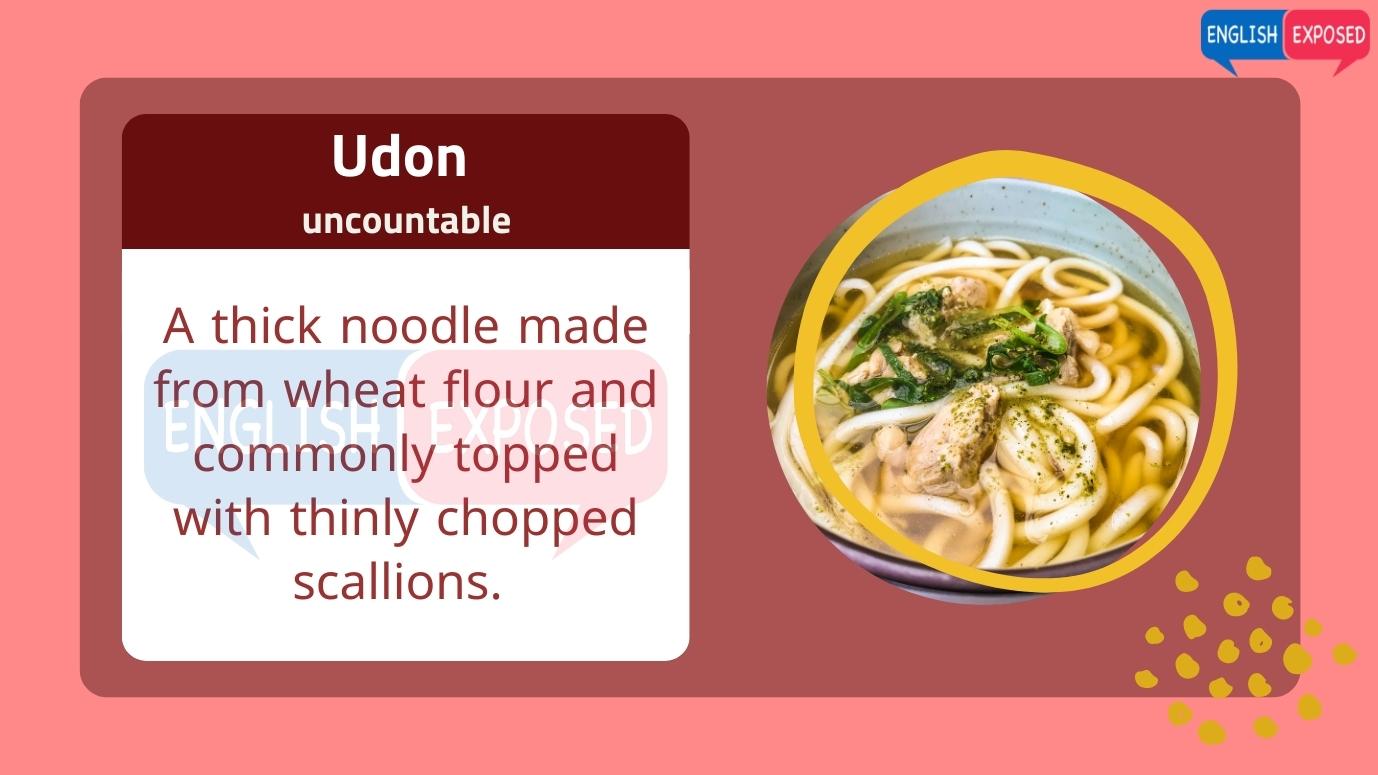 Urchins [countable]
A common Japanese dish consists of an egg custard steamed with a dashi broth that you can find in most sushi bars.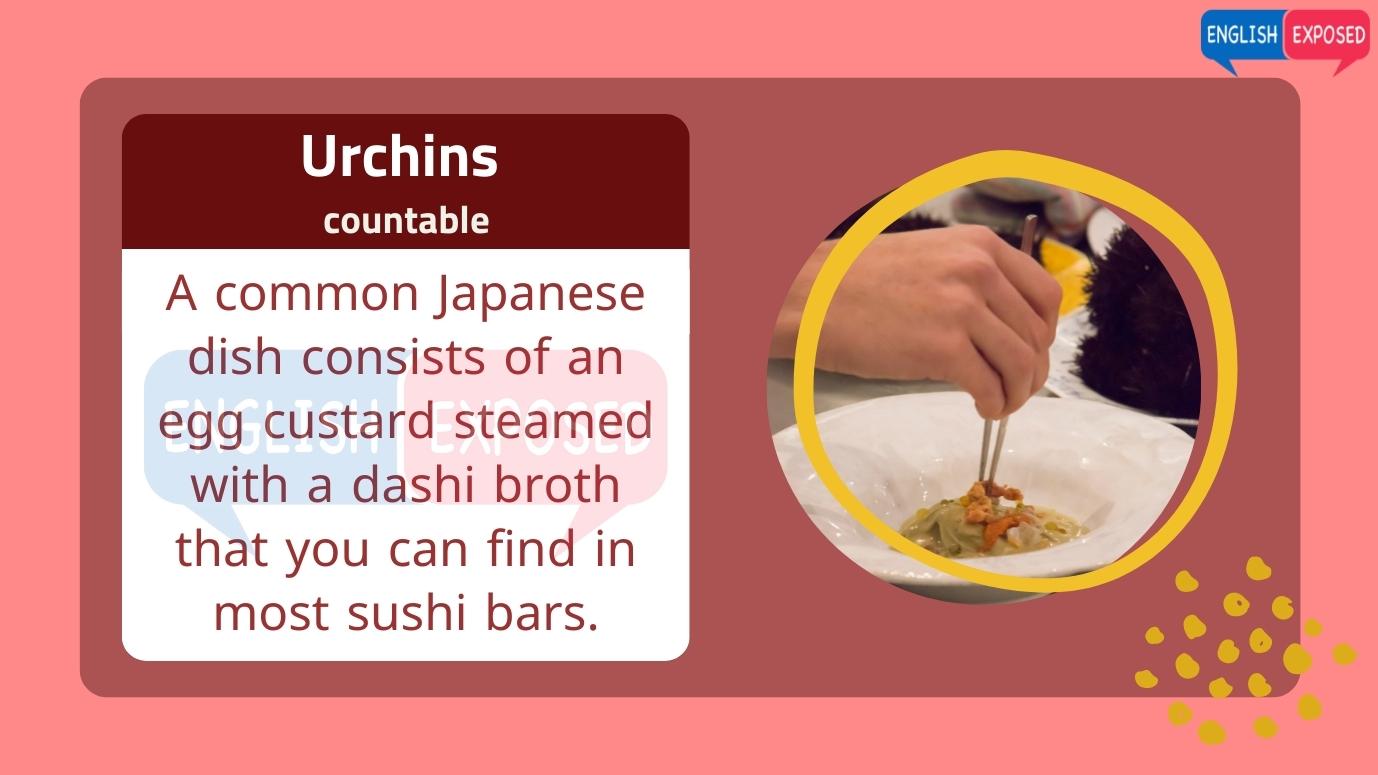 Ukha [uncountable]
A classic Russian fish soup made with onions, potatoes, and carrots. It is unique in its taste because every family in Russia has a different way of preparing it. Various types of fish are used to cook ukha such as bream, wels catfish and northern pike.
Uthappam [uncountable]
An Indian Breakfast dish that is made from urad beans and rice, and topped with tomatoes, onions, chillies, bell peppers or coriander. It is different from the normal dosa; it's not crispy and crepe-like, but more like a pancake with toppings.
Upma [uncountable]
An Indian breakfast porridge made from dry-roasted semolina or coarse rice flour. Any kind of seasoning or topping can be added to it and you can also use sooji, whole wheat, oats, quinoa, rice, corn, Kesari or vermicelli during cooking according to your preferences.
Unagi [uncountable]
A popular Japanese fish dish made with eel, it is delicious and is considered a luxurious delicacy in Japan. It can be eaten grilled or is used as a common ingredient in Japanese cooking, often as kabayaki.
Usal [uncountable]
Another odd Indian dish that worth adding to the foods that start with u list. Basically, it is an Indian breakfast made with mixed sprouted legumes, tomatoes, and onions with the addition of some ingredients such as curry spices, red chilli, cumin seeds, turmeric, and garam masala powder and is super easy to make.
Ulava Charu [uncountable]
An Indian delicious soup made with boiled horse gram lentils, spices, tamarind and herbs. The horse gram lentil is soaked in delicious coconut red chilli gravy. It is then cooked in 'rasam' form. It is also known as horse gram lentil soup.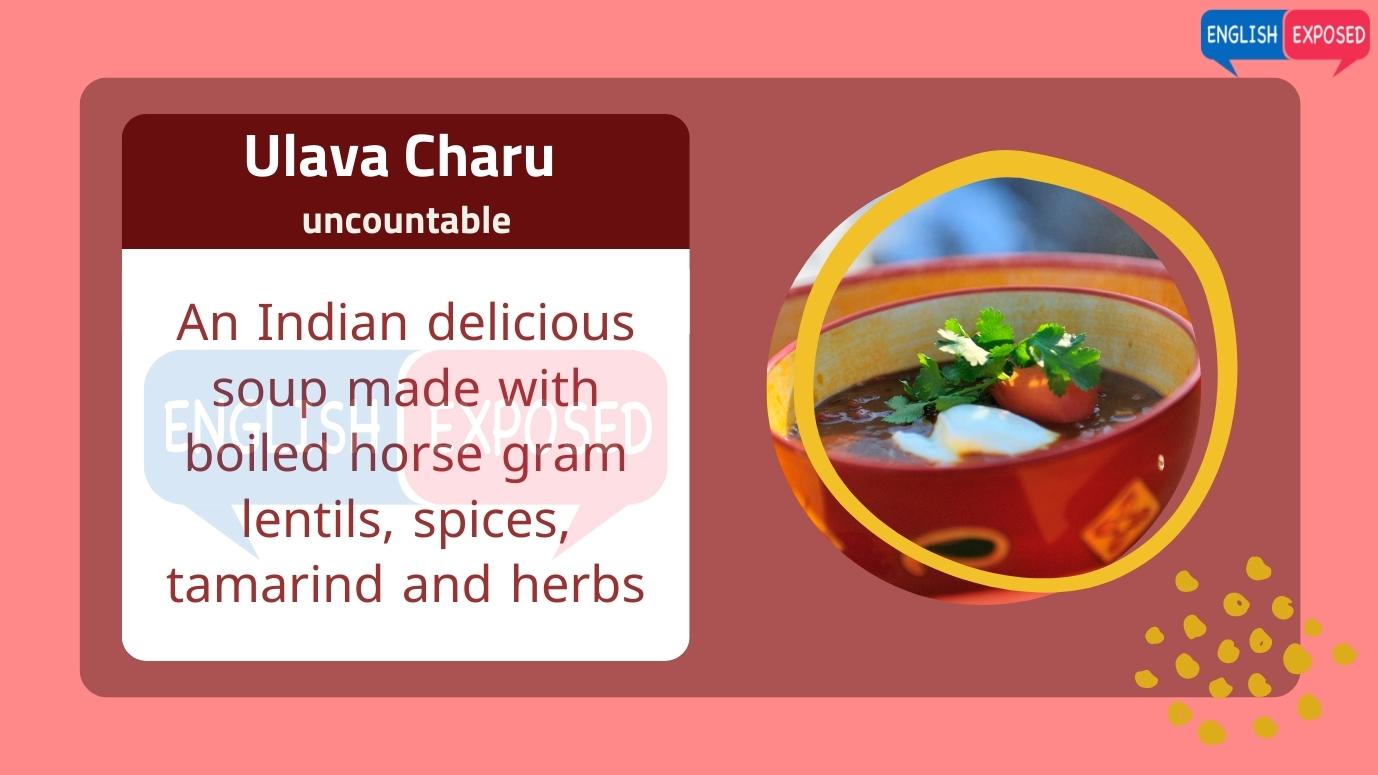 Uszka [uncountable]
Traditional Small dumplings dish that originated in Poland and is usually eaten as a snack or added to the soup. The dumplings are filled with wild forest mushrooms, sometimes mixed with minced meat, the other ingredients are onion, bread crumbs, parsley, egg, salt and pepper.
Undhiyu [uncountable]
A traditional tasty seasonal Gujarati curry made with several fresh vegetables.
Utica Greens [uncountable]
A dish originated in Utica and is made of hot peppers, escarole, cheese and other ingredients, as well as variations of meat.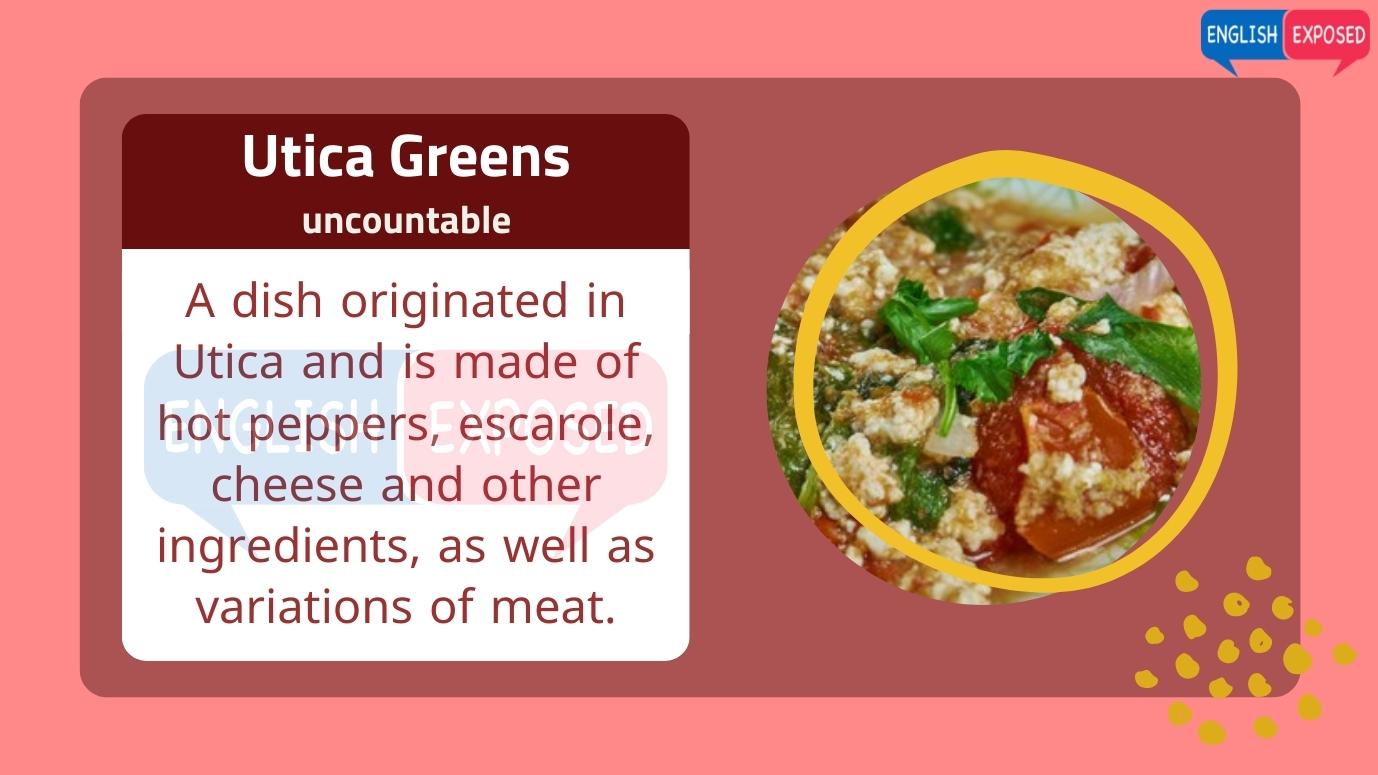 Umbricelli Pasta [uncountable]
A strand pasta originated in the Umbria region of Italy and is traditionally made with a dough that does not include eggs, being prepared mainly with water and durum wheat flour. It is often considered to be a thicker version of spaghetti.
Ukrainian Dinner Rolls [countable]
Are Ukrainian Savoury buns similar to garlic bread, made of yeast dough and brushed with garlic sauce. The rolls are fluffy and airy inside while crusty outside and are perfect to serve with a soup.
Ukrainian Stuffed Cabbage [countable]
Ukrainian dish consists of a cabbage filled with a mixture of seasoned ground beef or pork, rice, and onion, then cooked in a tomato-based sauce and served with sour cream.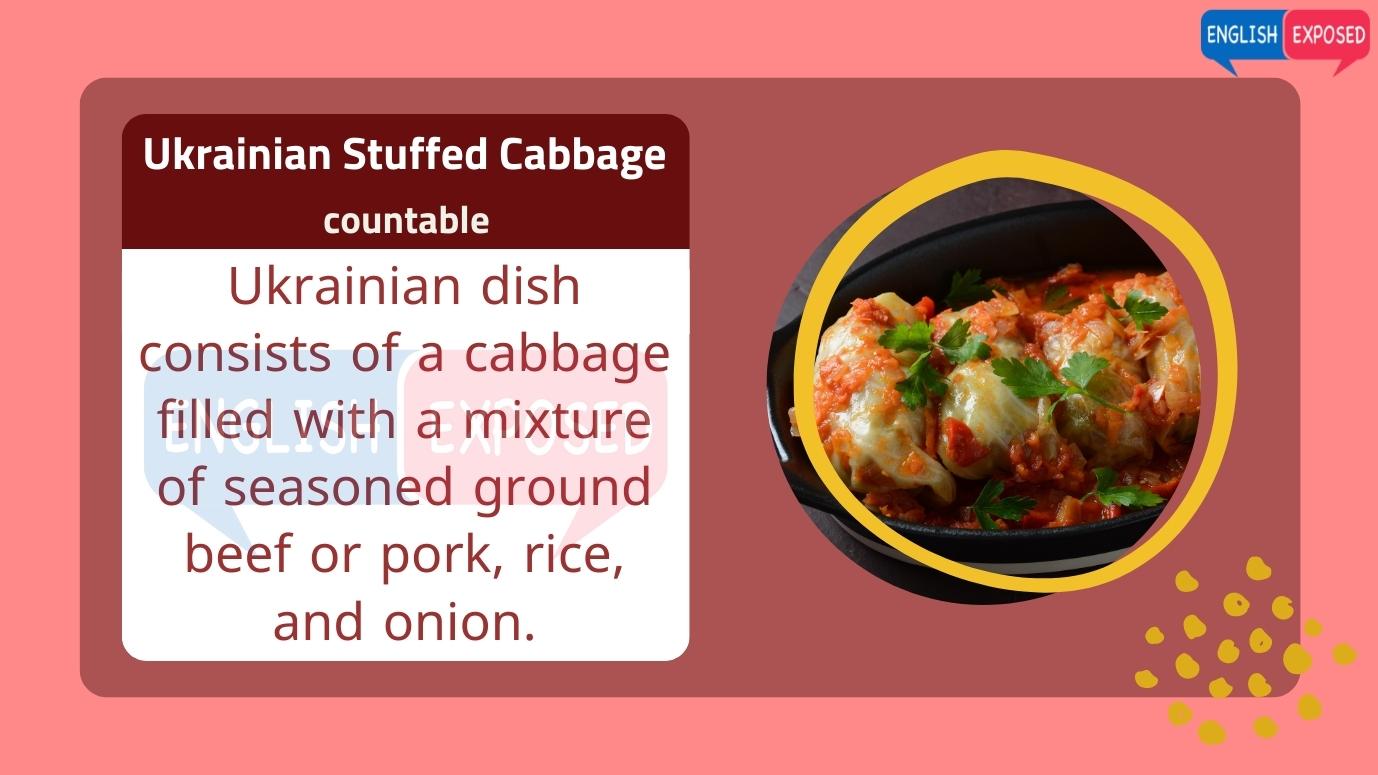 Usban [uncountable]
A traditional Tunisian sausage dish stuffed with a mixture of rice, herbs, lamb, chopped liver and heart. This dish is usually served along with the main meal of rice or couscous, often on special occasions.
Ugali [uncountable]
A type of East African maize flour porridge that is sometimes made from other flours, such as millet or sorghum flour, and is sometimes mixed with cassava flour.
Utah Scone [uncountable]
Pieces of light and fluffy fried dough made from sweet yeast dough, buttermilk, and baking powder and served hot. These scones are a cross between doughnuts and Fry Bread.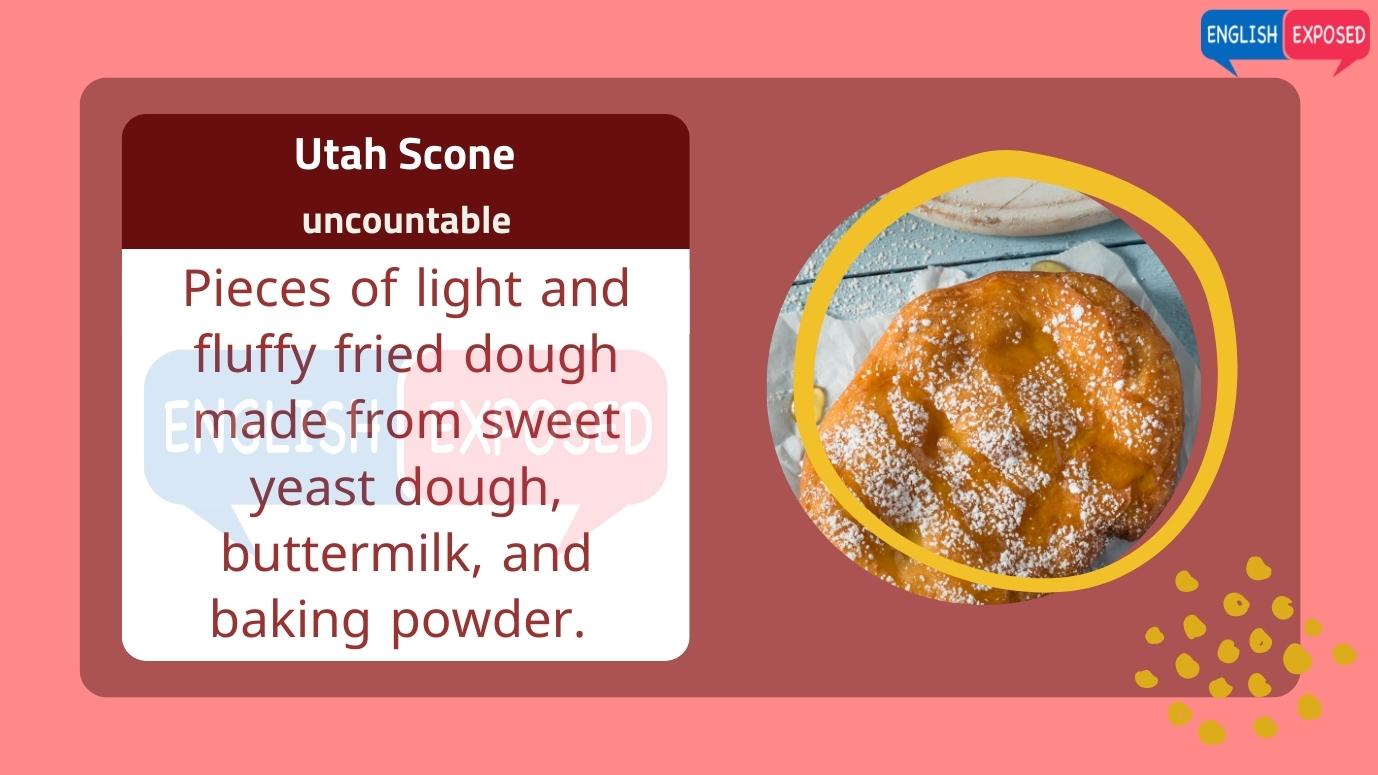 U-No Bar [countable]
A truffle-type dessert bar covered in a thin layer of milk chocolate with almond bits and wrapped in a silver foil wrapper.
Urgelia Cheese [uncountable]
A pressed cheese made from pasteurized cow's milk. This cheese has a beautiful creamy soft texture. It can be served with salad or fruits and meats.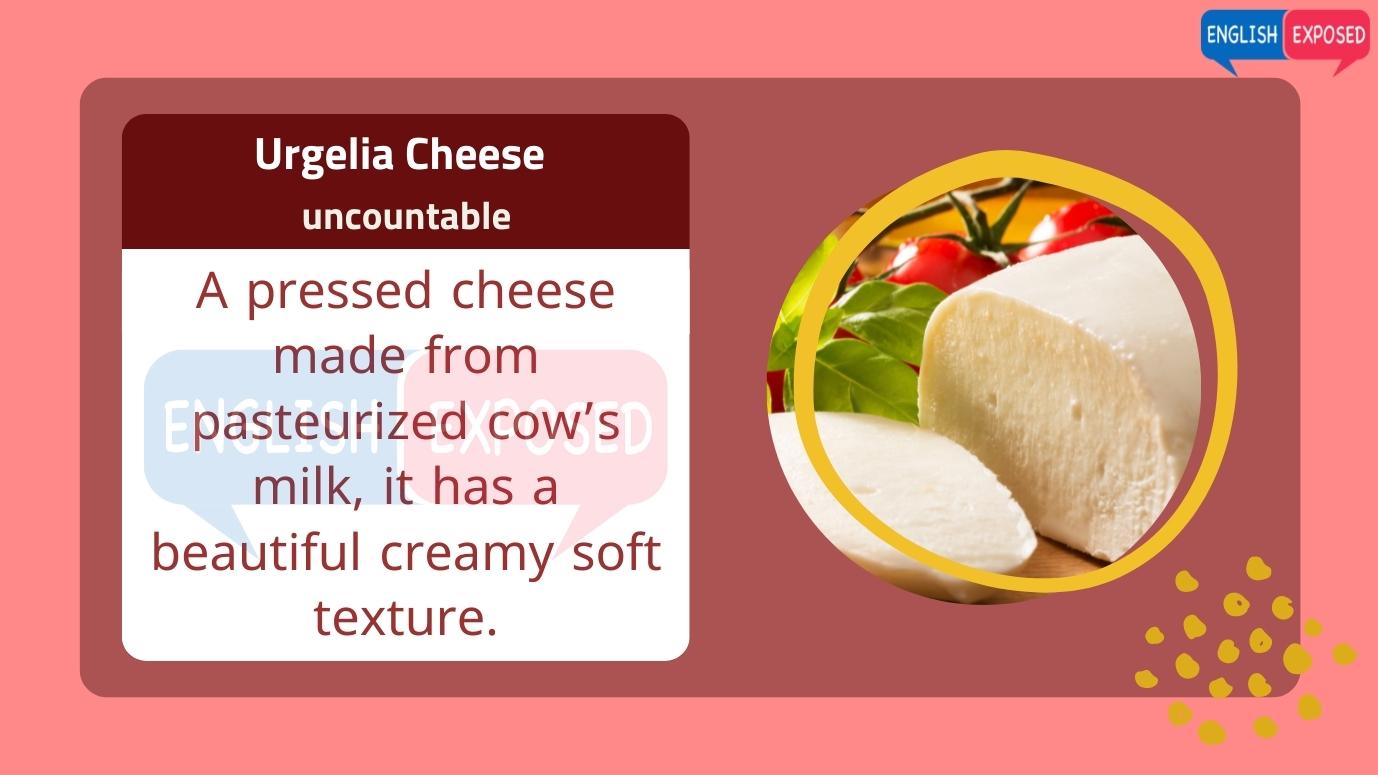 Urda Cheese [uncountable]
A traditional whey cheese originated in Romania and is commonly produced in Southeast Europe. The whey that is used in its production can be from cow, goat or sheep milk.
Unpasteurized Cheese [uncountable]
As long as we talk about foods that start with u list, we shouldn't forget to mention this popular cheese. This type of Cheese is made from raw or unpasteurized milk.
Unni Appam [uncountable]
Small round tasty fritters made from rice, banana, jaggery, roasted coconut pieces and some other ingredients. They are a very popular snack in Kerala.
Ugadi Pachadi [uncountable]
Traditional festive food that is made of neem flowers, raw mango, jaggery, pepper powder and coconut. It has six different flavours: sweet, sour, salt, spice, bitter, and pungent.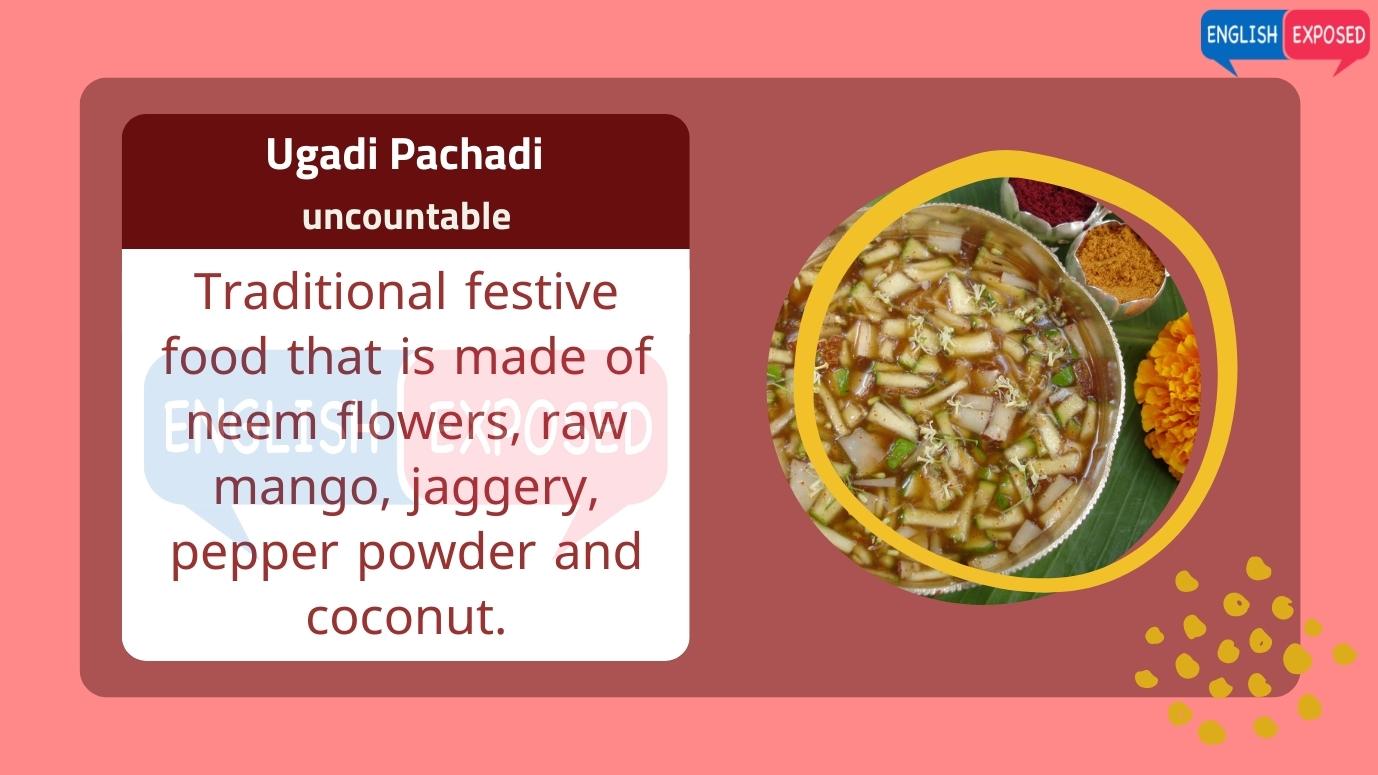 Upside-down Cake [countable]
A soft and buttery cake that is baked "upside-down" in a single pan and is topped at the bottom of the pan with a caramelized brown sugar fruit. Pineapple fruit is the most common fruit that's used in this delicious cake.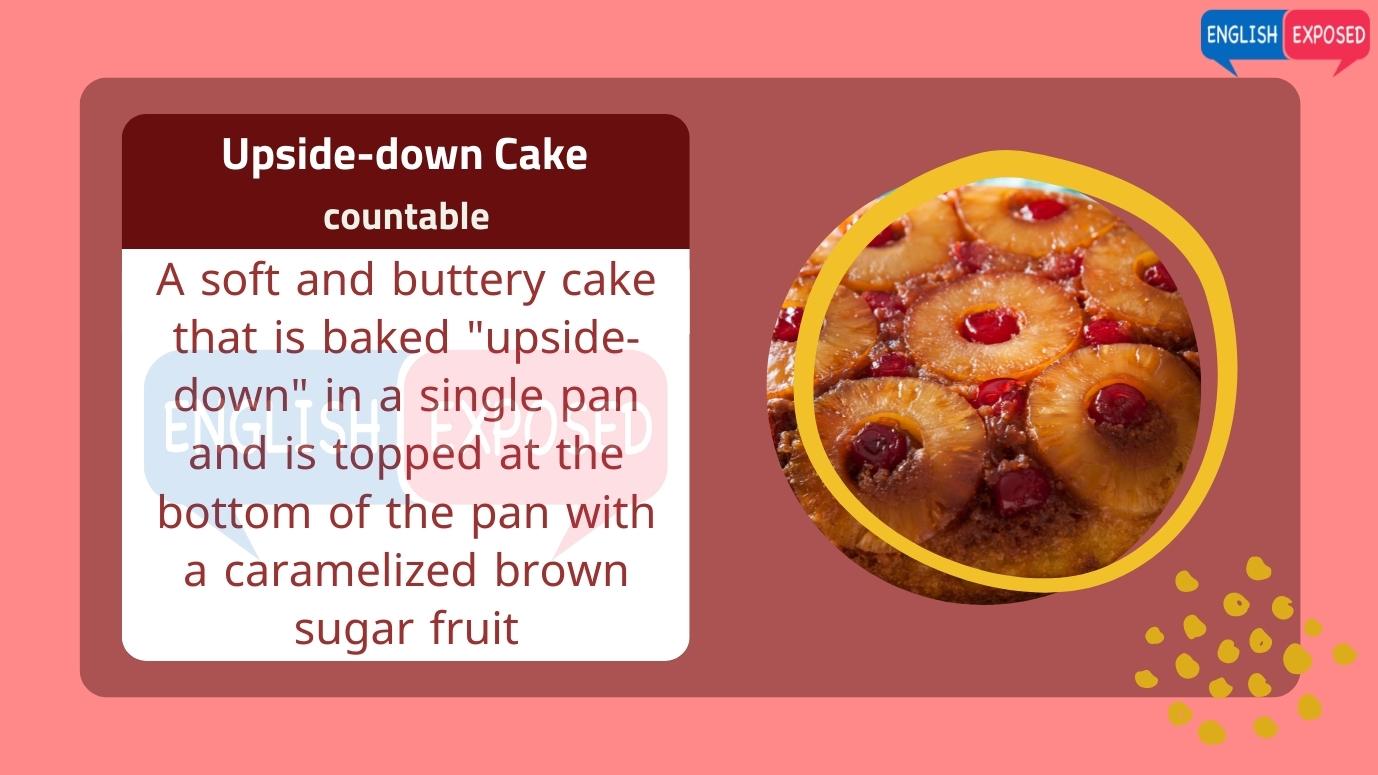 Ube Halaya [uncountable]
A delicious dessert made from boiled and mashed purple yam which originated in the Philippines. It is similar to chiffon and sponge cakes and its main ingredient is ube jam or halaya.
Ugly Pie [uncountable]
A popular delicious pie made of Granny Smith apples, molasses, lemon juice, flour and other ingredients such as salt, and ice cold water.
Read more:
55+ Foods That Start With E (With Pictures)
List of Proteins Foods in English | Protein Words List
Food List | 99+ Foods Names in English