20+ Foods That Start With Z
This helpful list will share 20+ interesting, new and unusual foods that start with z, and each food is provided with pictures to demonstrate it to help you during your educational journey while learning English.
List of Foods That Start With Z
Zoodles [countable]
A dish that is considered a substitute for pasta, which is made mainly of zucchinis that have been cut into strips, with the addition of some ingredients such as garlic, basil, tomatoes, and parmesan cheese. However, this dish is usually targeted for people who love pasta but follow a well-diet plan and can't handle the high carbs in the usual pasta.
Zucchini [countable]
A long dark-green coloured vegetable that grows in summer, and which is used in many healthy and tasty dishes such as Zoodles.
Zuppa Toscana [uncountable]
Originally an Italian traditional soup which is made of zucchini, kale, tomato pulp and some other ingredients, such as potatoes, onion, and garlic.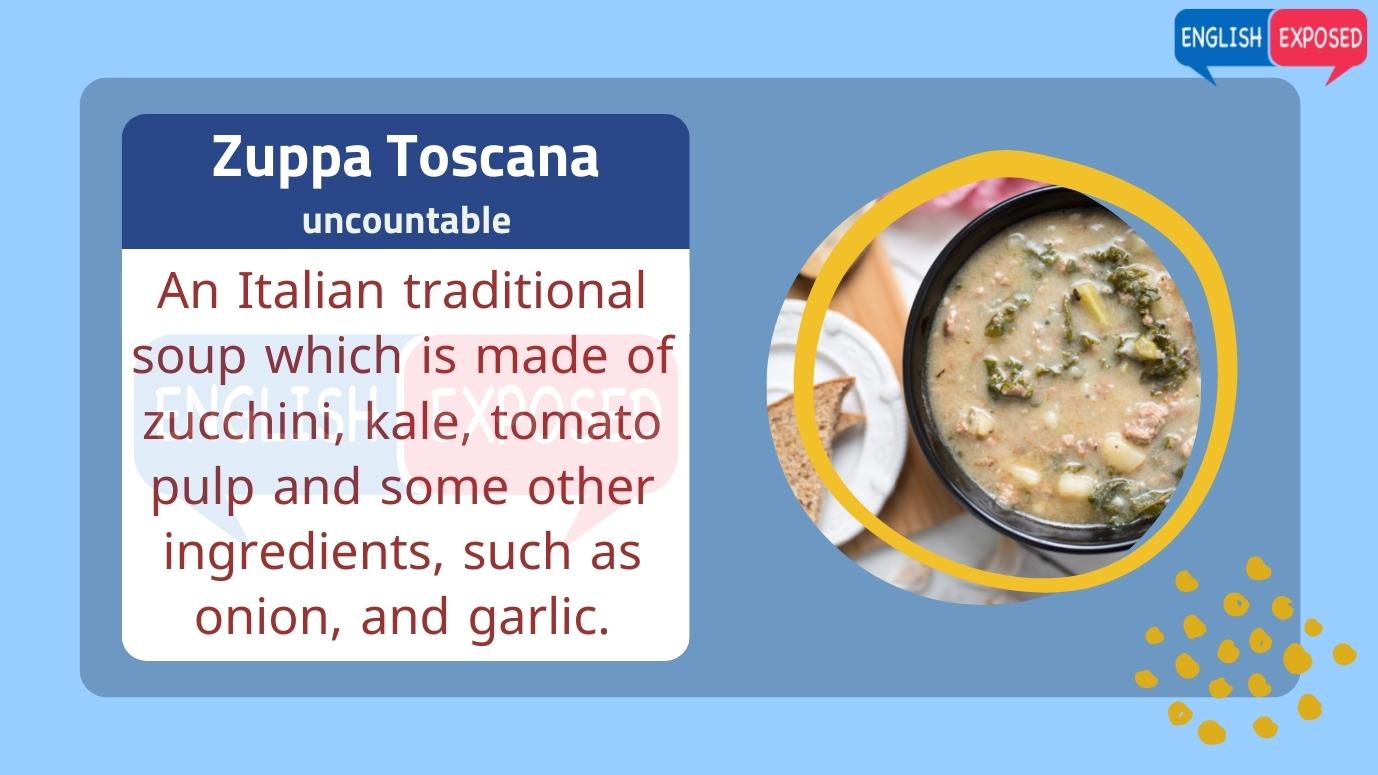 Zuccotto [uncountable]
A dessert that originated in Italy, and which is made with alchermes, cake and ice cream.
Ziti [uncountable]
An Italian small tube-shaped form of pasta noodles that is made of sweet Italian sausage, cloves of garlic and some other ingredients.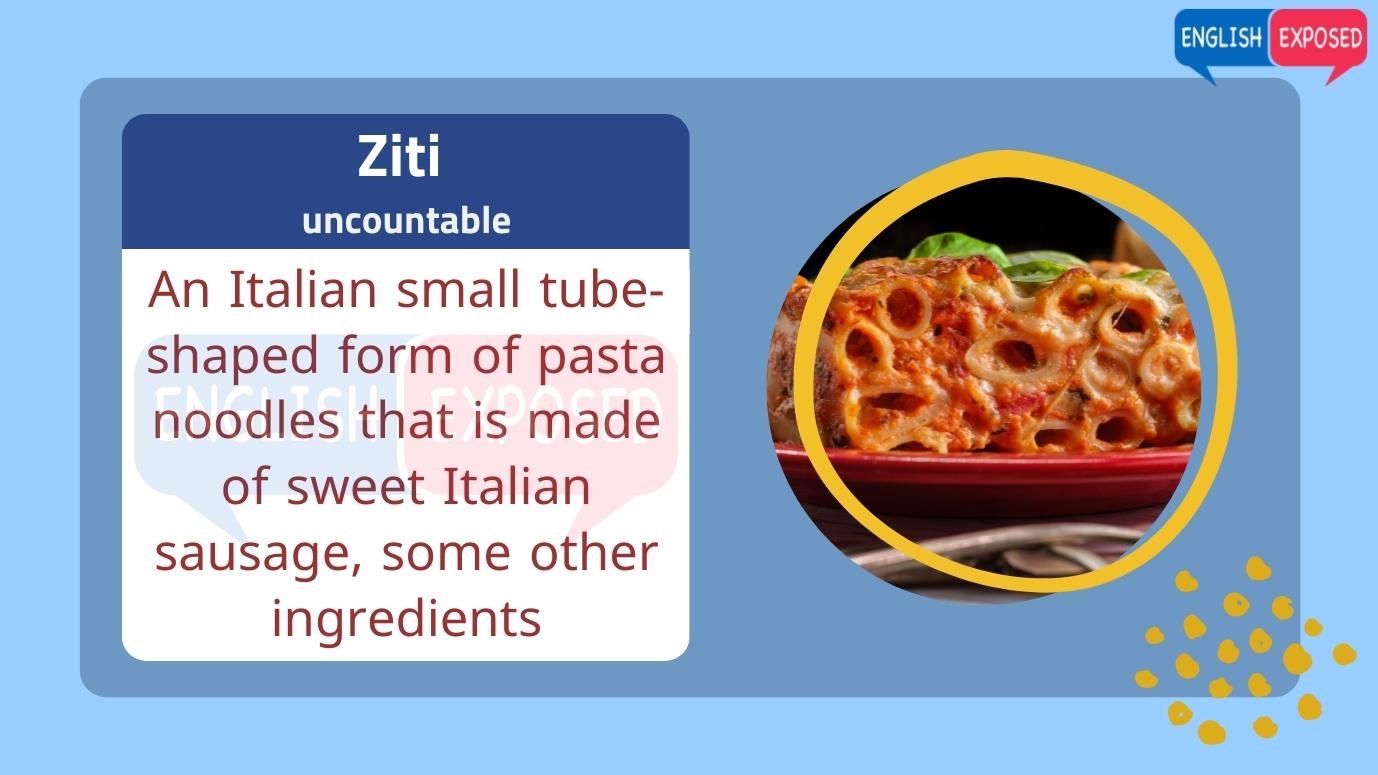 Zeppole [uncountable]
An Italian pastry that consists of deep-fried dough balls stuffed with custard, jelly, cannoli-style pastry cream or any other filling, and which is usually topped with sugar.
Zucchini Fritters [countable]
A delicious healthy pastry that is known for its easy preparation, in which, it consists of zucchini, parmesan cheese and eggs with the addition of plenty of seasonings.
Zest [uncountable]
A food ingredient that is used to flavour food and is prepared by scraping any citrus fruit such as Orange and Lemon.
Zingers [uncountable]
A smooth snack cake that is filled with cream and is very delicious. It also has many flavours such as strawberry, caramel and vanilla.
Zig-Zag Vine [uncountable]
A fruit, typically a berry that has orange edible skin. However, people often use it in many recipes and drinks, instead of eating it fresh.
Zander [countable]
A fish species in the family Percidae that is commonly found in Europe, and which people make dishes of it or simply eat it grilled or fried.
Zucchini Bread [uncountable]
A type of delicious bread that is made of Cinnamon, eggs, and baking powder with some other ingredients.
Zopf [uncountable]
A type of bread that is popular in Bavaria, Austria, and Switzerland. It is a golden-brown-coloured bread that is made of eggs, milk, butter, white flour, and yeast.
Zimtsterne [uncountable]
Are common star-shaped German cookies that are flavoured with cinnamon. Besides, Zimtsterne is usually served during Christmas or holidays.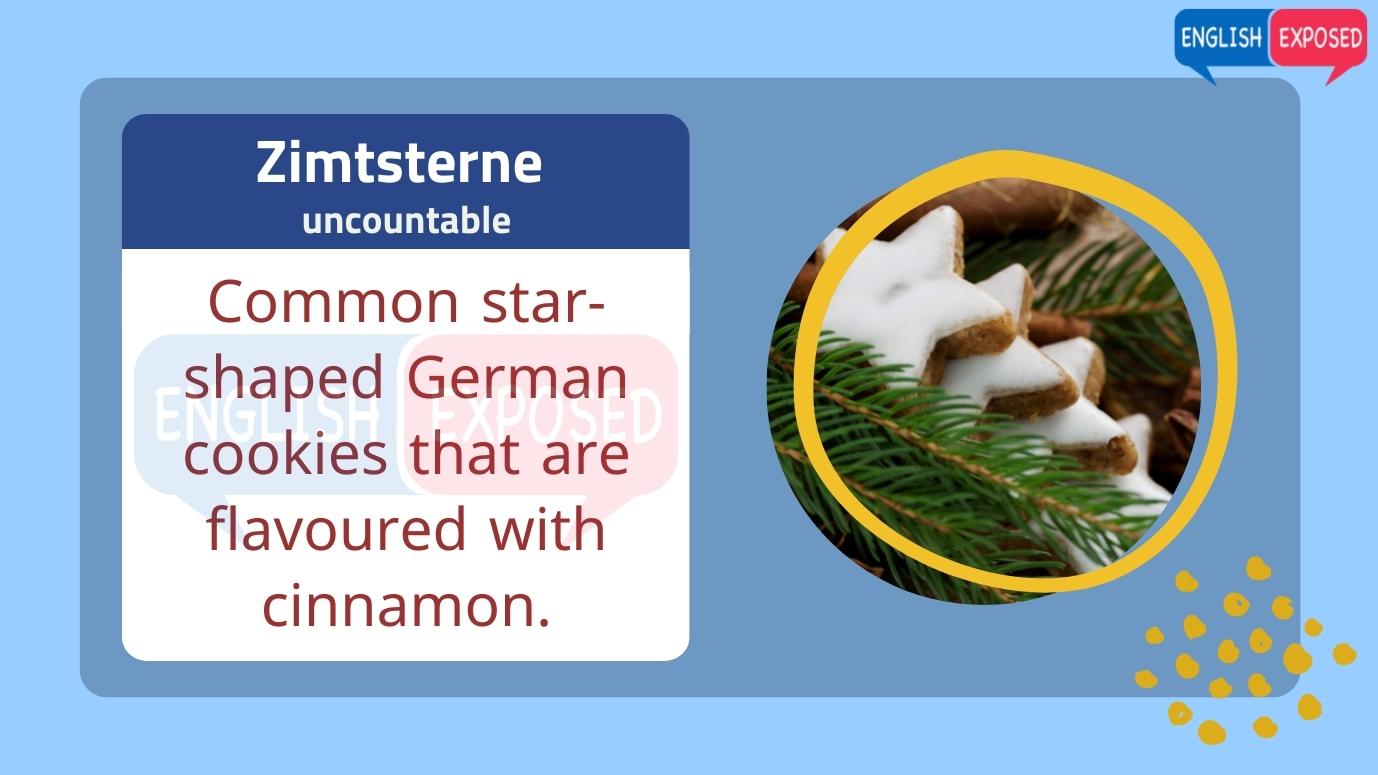 Zwieback [uncountable]
A type of sweet rusk or biscuit that is popular in Europe and is made of butter, eggs and some other ingredients that follow its recipe.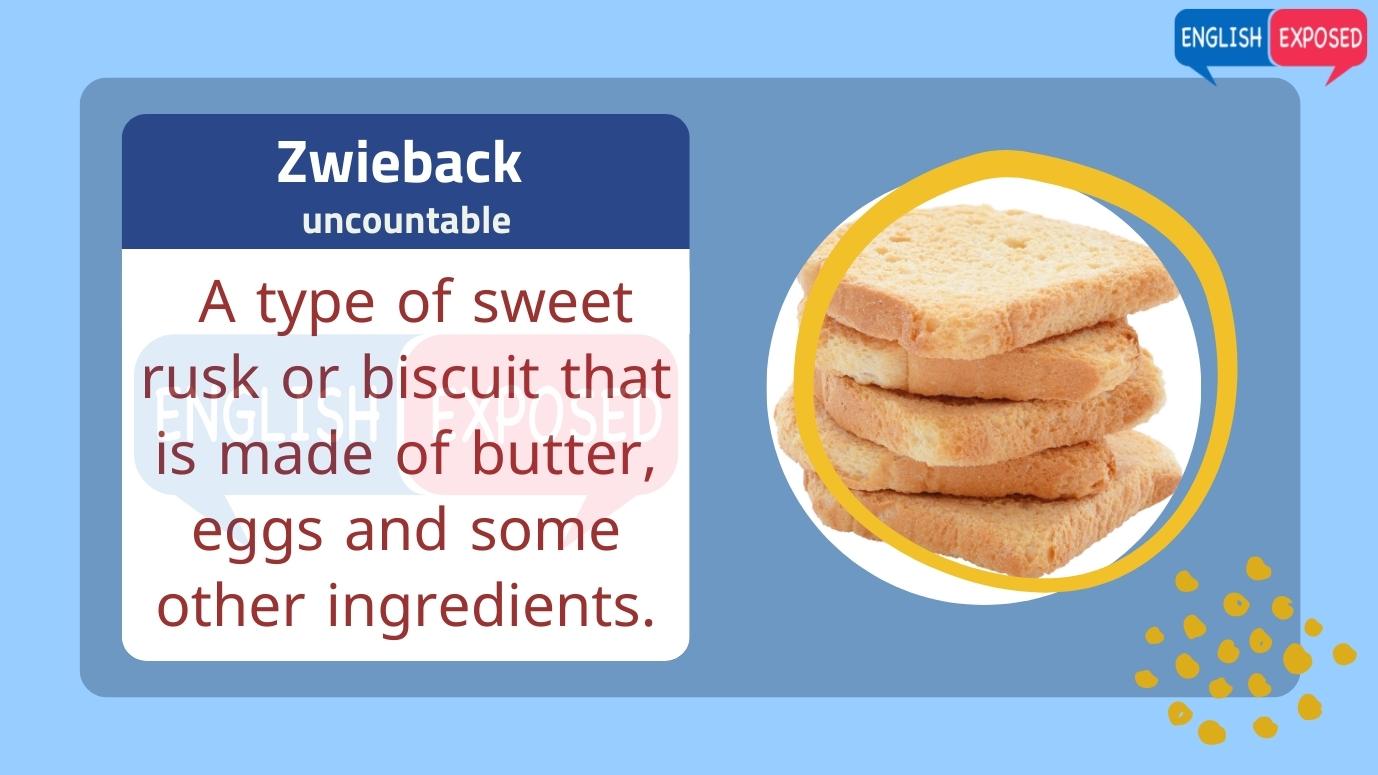 Zwetschkenknodel [uncountable]
A common and lovable dessert in Germany and Austria. It is about dumplings whose dough is made from yeast, curd, semolina, or potatoes and stuffed with tasty plums.
Zwiebelrostbraten [uncountable]
An Austrian delicious dish that consists mainly of beef and roasted onion covered in gravy and is usually served with french fries and salad as appetisers.
Zebra Cakes [countable]
While we are talking about the list of foods that start with z, we definitely shouldn't forget to mention this delicious cake. It is a tasty cake whose batters are layered together and filled with sweet cream in between.
Zereshk Polo [uncountable]
Originally a Persian common dish that consists of Tender chicken with saffron rice, and sweet and sour barberries.
Zapiekanka [uncountable]
Originally a pizza-like Polish sandwich that is made of a sliced baguette topped with sautéed white mushrooms, cheese, a type of meat, and some other ingredients such as ham. It is also served hot with ketchup.
ZHAJIANGMIAN [uncountable]
A common Chinese sauce that contains wheat-based noodles topped or covered with a sauce called "Zhajiang sauce", this sauce is a mix of soy sauce and bean sauce.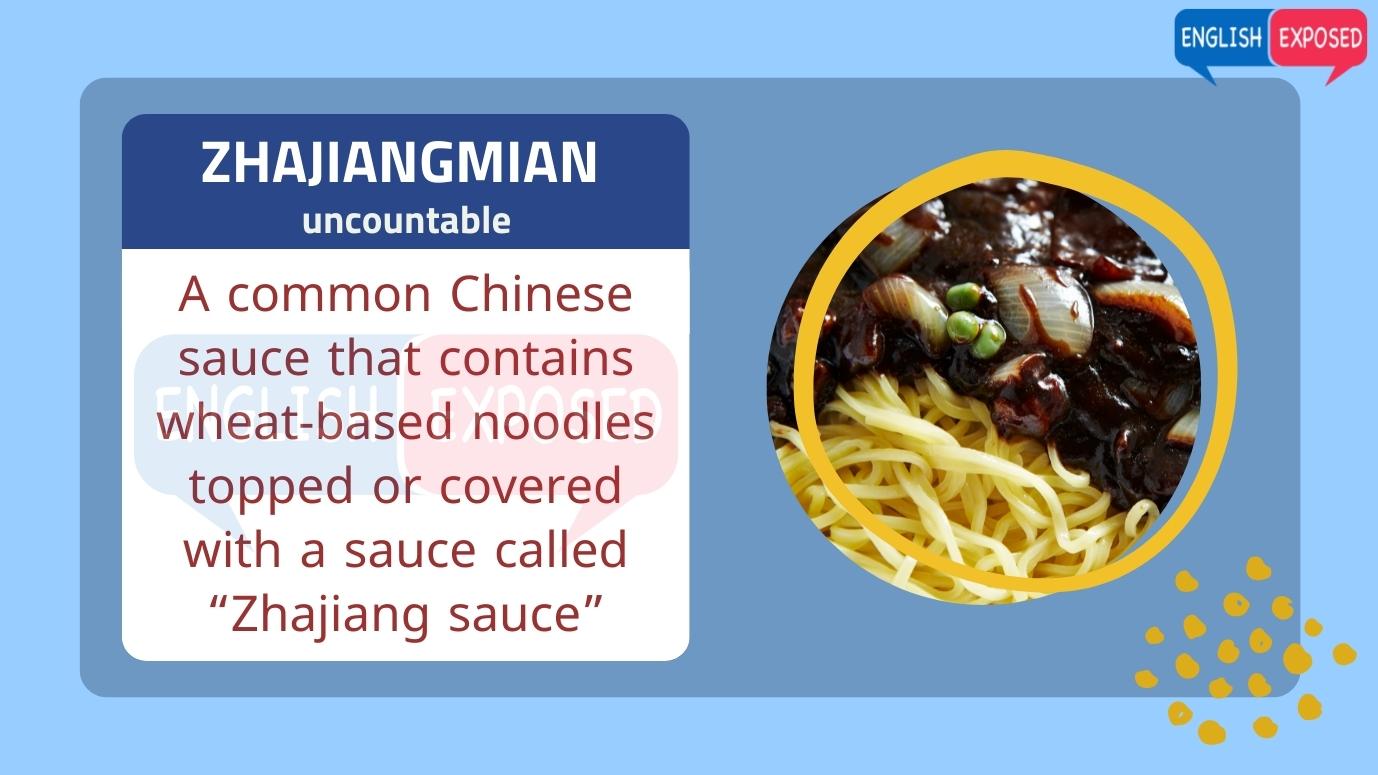 ZAGNUT [uncountable]
Another delicious dessert that considered one of the foods that start with z. It is a delicious candy bar that is topped with toasted coconut and filled with peanut butter.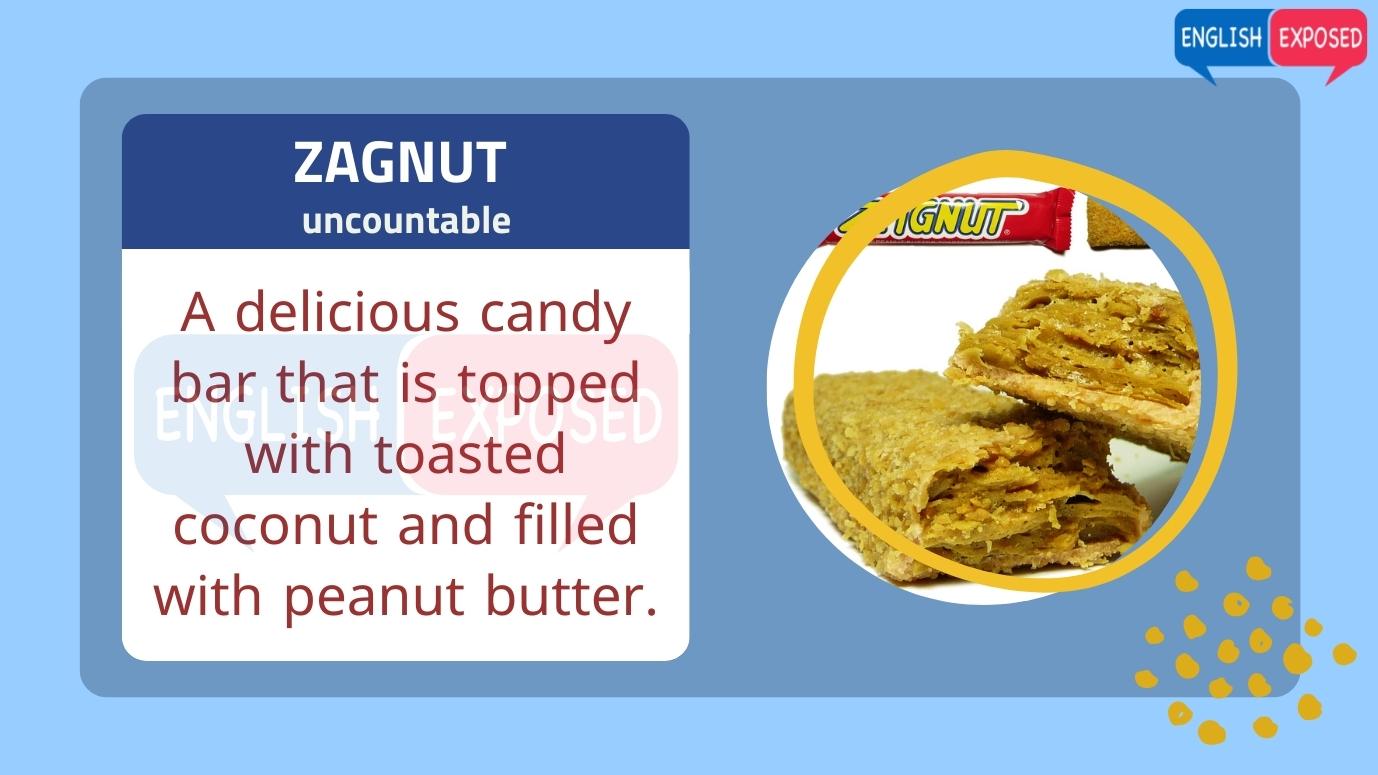 Read more:
55+ Foods That Start With E (With Pictures)
List of Proteins Foods in English | Protein Words List
Food List | 99+ Foods Names in English
45+ Foods That Start With K (with pictures)